Today, we are driving away from our house in Ohio. It was our very first duty station as a married couple. Once Dan
graduated from the Air Force Academy
in 2014, we got married and moved to Dayton, Ohio so he could get his Master's degree from AFIT, the Air Force Institute of Technology.
Last night, he received that
Master of Science in Applied Physics degree
(more on that coming soon), and we completed our time at Wright-Patterson Air Force Base. Thank goodness. We were not so much a fan of this town, but we also know it could be worse. There's nothing AWFUL about Dayton... there's just nothing exceptional about it either. In all fairness, we probably would have felt that way about any base after coming from
gorgeous Colorado Springs
.
Although we are not upset to be leaving Ohio behind for more exciting things (ie: pilot training and all the fun and craziness that comes along with it in Texas), we did make some special memories in Ohio...
We lived in our first house as a married couple. Sure, we rented it, but we worked hard to put it together to look and feel like a home, and I will definitely miss the layout of that house. It's also the home we welcomed Annabelle into, and while she will have many homes growing up, this one will always remain special because of the middle of the night feedings, sweet newborn cuddles, and many first milestones that took place in this very house. I'm happy to be leaving, but I'm also overwhelmed with sadness about leaving that part of Annabelle's life behind - she'll never remember it, so I'm happy that I at least
captured her nursery in photos
for her to have when she's older.

We went to many baseball games, went flying, and even made our own table for our patio! We're excited to move that one with us to Texas for all of the cookouts we see in our future.

We welcomed
Smudge, Dan's childhood dog
, into our home, and the kitties moved to their third state! Gilligan and Stormy are such well-seasoned travelers.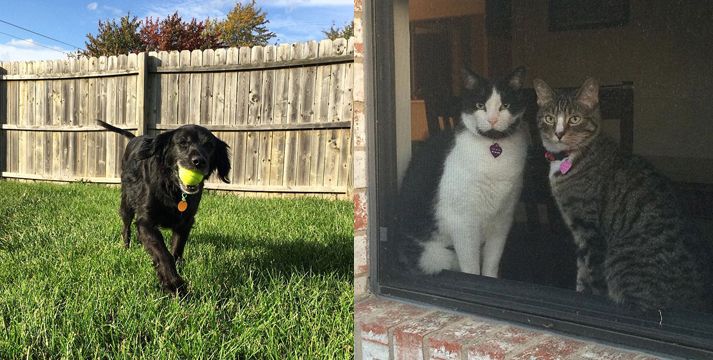 While we're hoping never to be stationed in Ohio again (and as a pilot, Dan shouldn't be assigned there - but you know the military...), we will definitely miss some small aspects of it. And our small handful of great friends there. We will definitely miss them.
Now onto the adventures of pilot training!
Do you ever feel sentimental when leaving a base, even if you didn't particularly care for it?