Wow - thank you all for the love on my big
wedding highlight post
from last week that includes some of our favorite professional photos and our video highlight reel! I really enjoyed reading your sweet comments (and replied to everyone who has the reply option - some of you are still no reply bloggers!)
Today's post is all about where we went for our honeymoon! I'm going to make a separate post for each of the nine places we visited, so this is just a general overview.
We were able to visit some AMAZING cities. Shown below are our favorite photos from each destination. This is just a small taste of what we saw, and it was SO difficult to choose just one photo from each place.
We really enjoyed Rome, Italy; Venice, Italy; Dubrovnik, Croatia; Athens, Greece; Kusadasi, Turkey; Split, Croatia; Paris, France; Normandy, France; and Munich, Germany!
OH!
And did I mention that I didn't know we were going to Venice, Dubrovnik, Athens, Kusadasi, or Split until we arrived suddenly in Venice after we left Rome?! My sweet husband had planned a
SURPRISE MEDITERRANEAN CRUISE
for us! He booked it 18 months before we went on it, and he kept it a surprise all that time! I am so impressed, and we had a BLAST on the Norwegian Jade!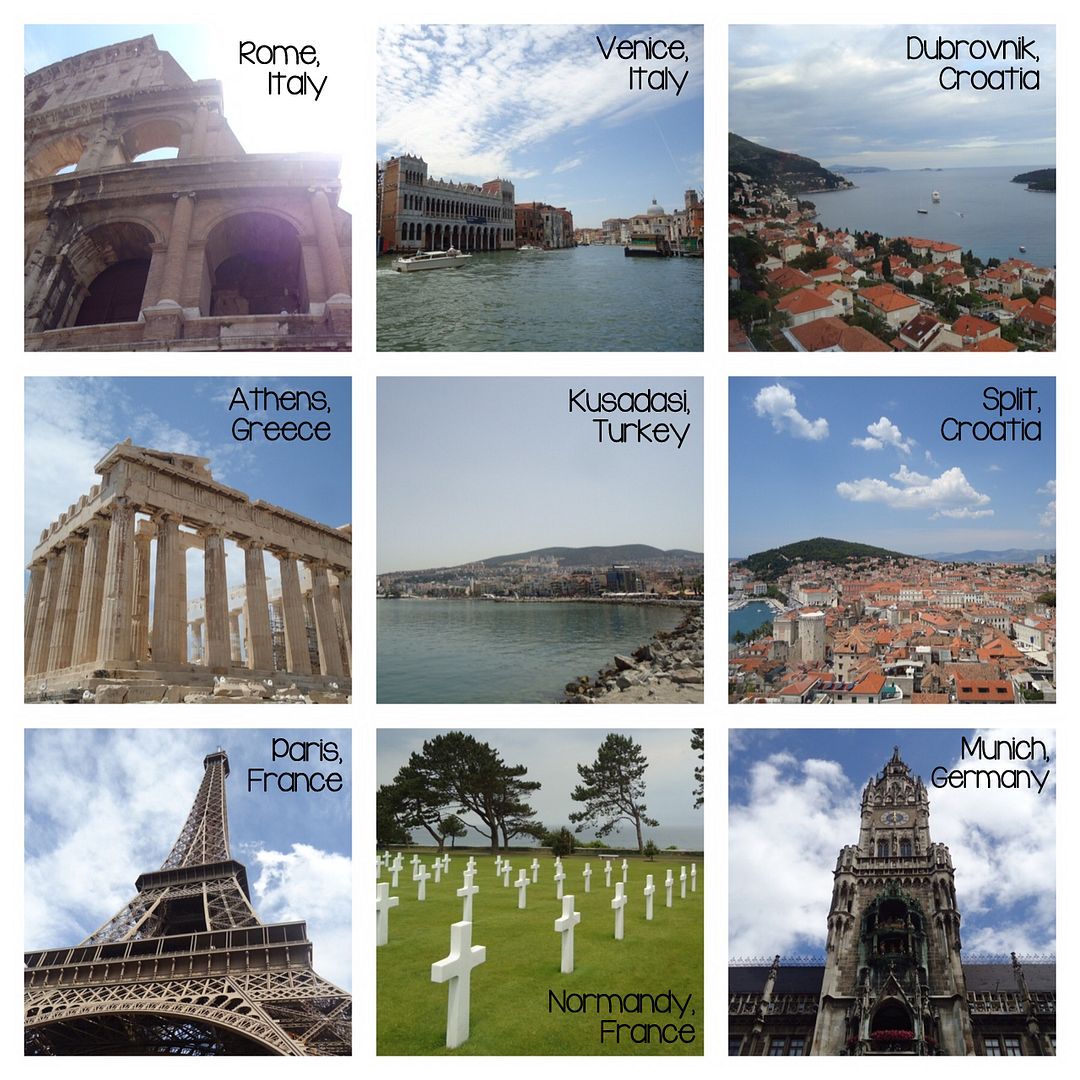 Since we had to wait so long to get married (because of the US Air Force Academy rules that no cadet can have dependents), we had a SUPER long time to save up for our honeymoon... which isn't such a bad thing! We were able to enjoy a full month in Europe, and even that got cut short! We were supposed to be there for six weeks, but due to a family emergency, we had to return after four weeks... but that just means we have to go back to see Prague, Czech Republic; Warsaw, Poland; Krakow, Poland; and London, England, right? I'm down for Honeymoon Part II! ;)