Just a couple weeks ago, I shared about
Dan's T-6 Dollar Ride
, where he flew with an IP (instructor pilot) for the first time at ENJJPT (Euro-NATO Joint Jet Pilot Training). Well, he's been flying nearly daily since then, and last week, they trusted him to take this $4+ million dollar plane up in the air all by himself!
Annabelle and I were so fortunate to be able to head to the airfield to watch the big event - major thanks to a friend who is a few classes ahead of Dan who escorted us out there and explained everything to me all morning.
I hope we are also able to watch his first solo flight in the T-38 when he transitions to that jet in January or February.
We arrived and headed inside to his flight room, and we had to wait to make sure winds were low enough for them to let Dan solo. He was already out with his IP flying, so I couldn't talk to him and was so nervous we wouldn't get to see him solo. (We had a really rough night the night before Annabelle couldn't sleep from her teething pain and late nap, so I was up with her for quite a bit of the night and ended up with significantly less sleep than normal... I would normally cancel all plans for the day and just chill around the house with her after a night like that, but we just couldn't miss this!)
When Dan's friend was sure he would be able to solo, he took us outside, and we took the shuttle out to the flight line and found the plane Dan was flying in the hangar. He looked thrilled to get to go out on his own, and it was amazing seeing him in his element. It was neat seeing him taxi out all on his own, and Annabelle was the most adorable waving at his plane as he left the hangar. Heart. Melted.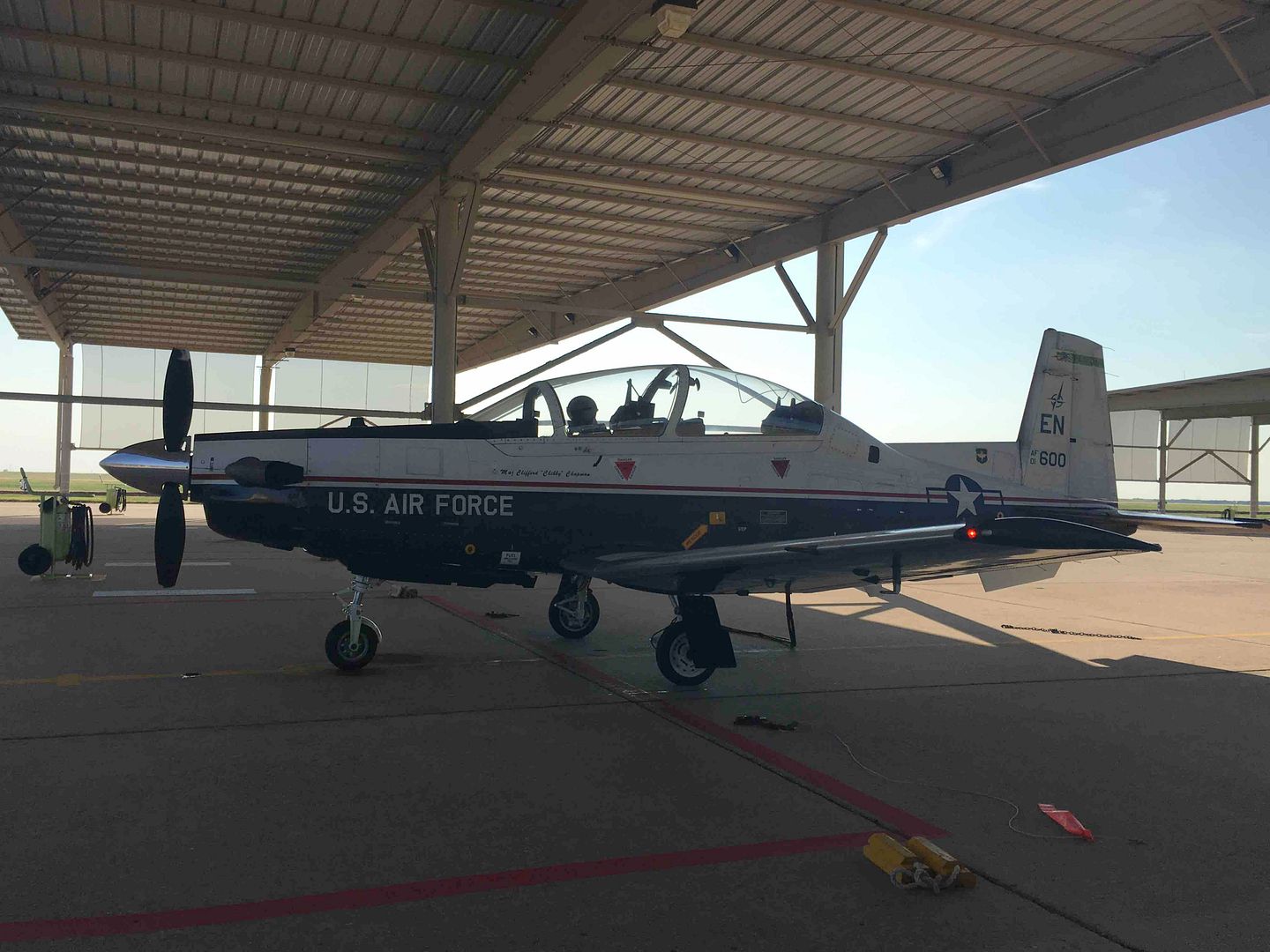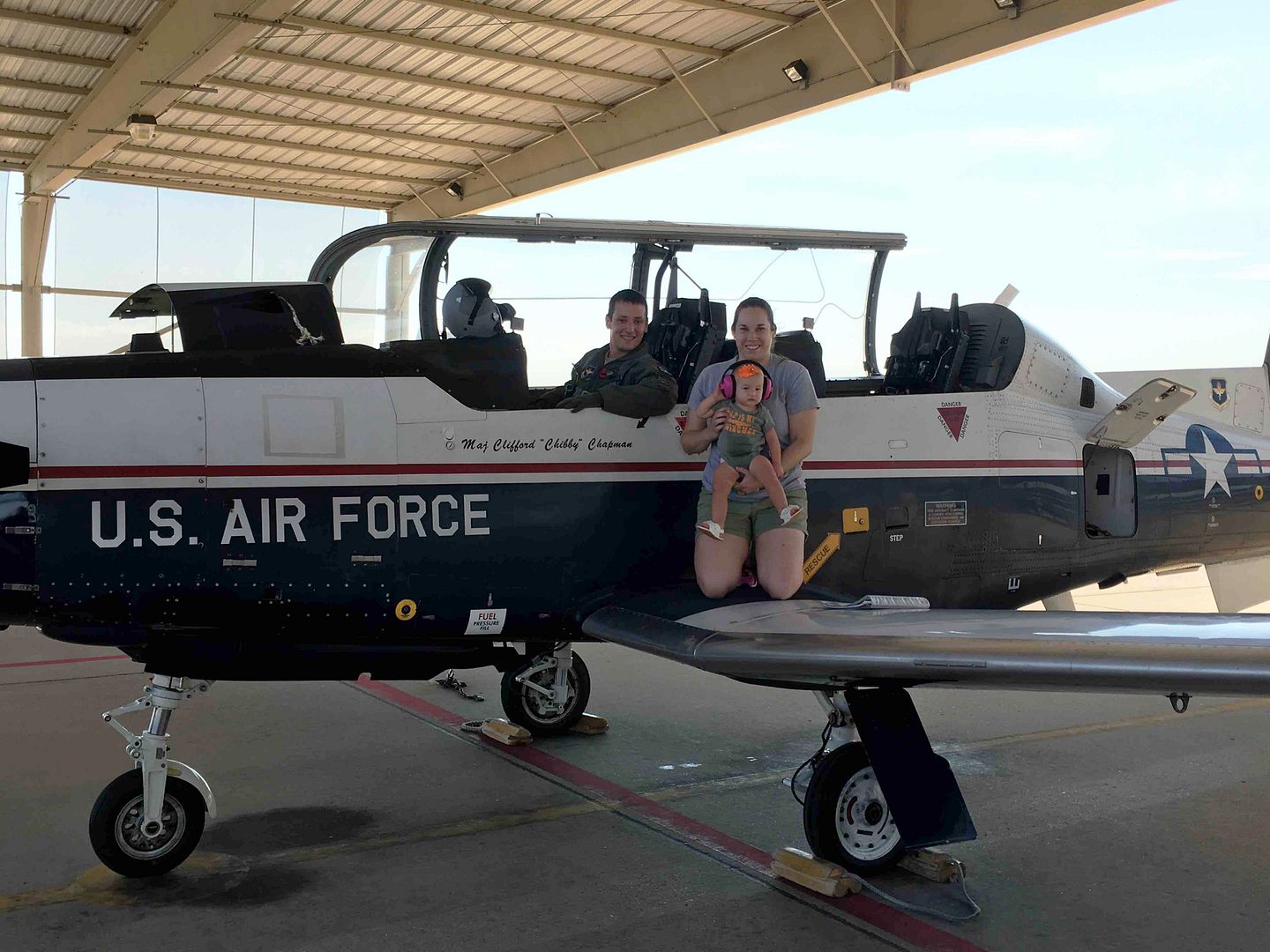 Annabelle's shirt says, "Dad is my wingman" - she knows she's the real boss around here. And that's sweat on her, not pee. She was in the Ergo for a long time in the Texas heat and humidity, so homegirl was pretty hot. She did great overall, though, and she looked adorable as always in her
Baby Banz ear protection
. (Not an affiliate link - I just really love these, and they're perfect for stadiums, air shows, Space A flights, etc.)
After he landed, we were able to take some pictures with him, and the one with us up on the wing and Dan still in the cockpit is probably my new favorite family photo.
I was able to get a few more pictures of him with the plane and then with his IP (who recently finished IP training, so Dan was his very first solo student - how cool is that?!)
And after all of that, Dan was tossed into the dunk tank by some of his classmates. The tradition is that you get chased down and tossed into the water after your initial solo in an aircraft, but if you're able to make it all the way back to the flight room undetected, everyone owes you beer. This moment was kind of anti-climactic because Dan WAS able to make it back to his flight room because SO MANY STUDENTS were soloing that morning, so no one was able to catch him... but I was disappointed, so I told everyone in the flight room that they needed to toss him in anyway because that's what kind of mean wife I am... and because I carried an extra pair of his heavy boots to him to change into when he forgot his that morning, and I'll be darned if that was for nothing while also juggling an almost one-year-old and all of her stuff as well.
I'm SO glad he was thrown in the dunk tank because I got some pretty great action shots that he will love looking back on.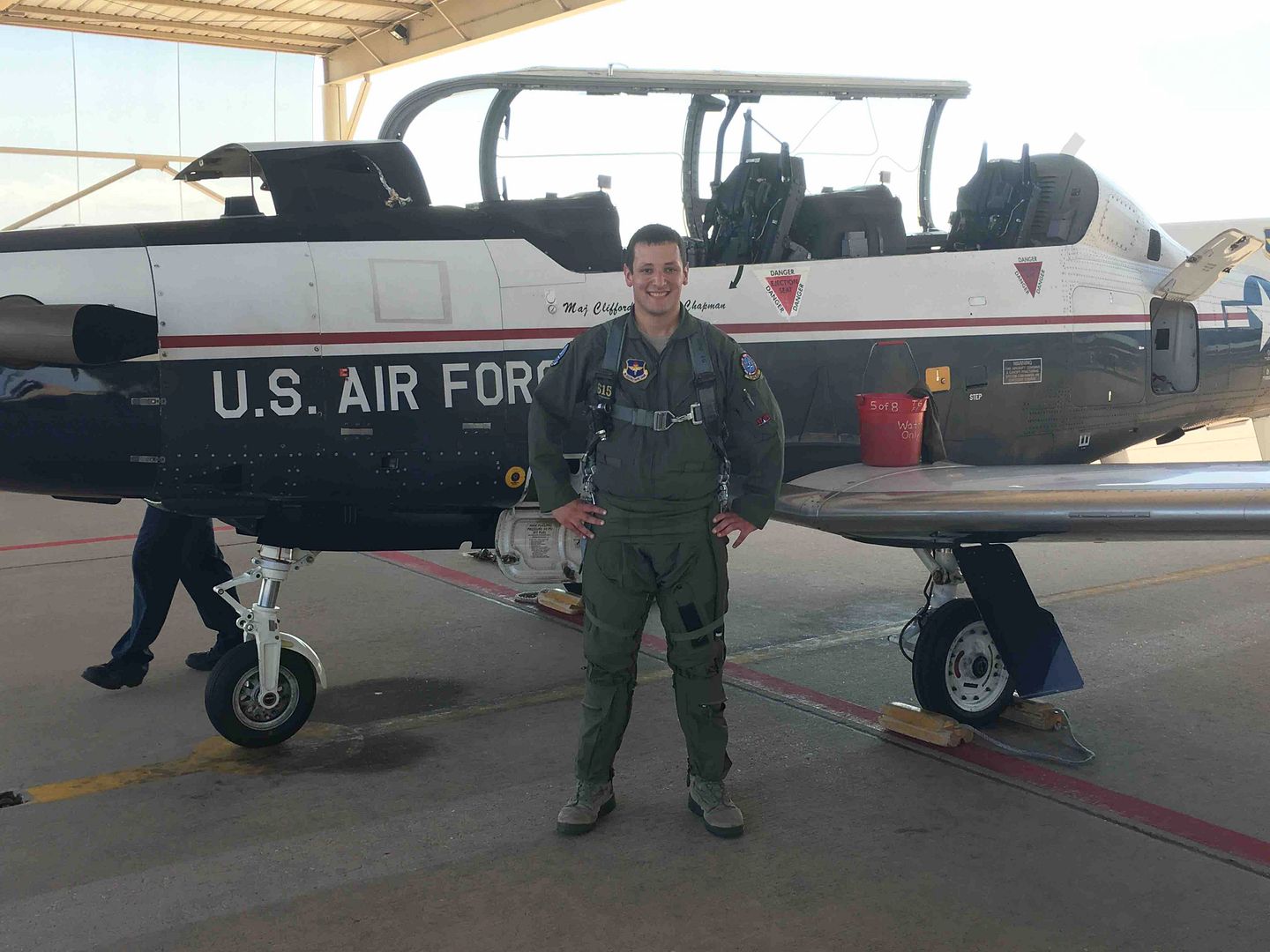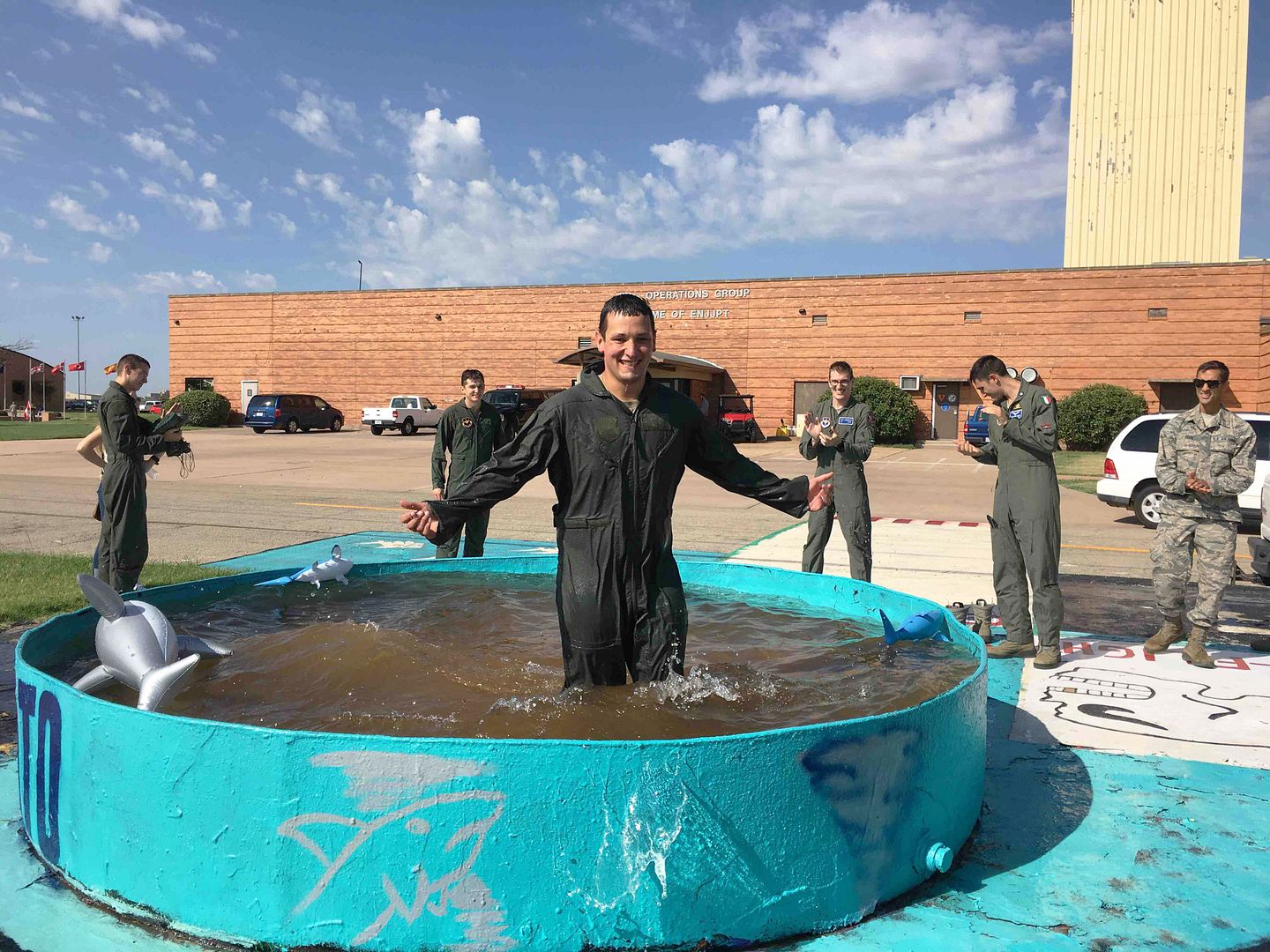 His class is called Shark-NATO... they all have different names, and they will have a patch for their flight suits that match the theme. It's cheesy, but it's sort of clever, and it's fun. That's why there are sharks in the dunk tank. There are students from Italy and Germany (as well as several others from the USA) in Dan's class, and it is SO cool to me.
Have you ever watched your spouse do something super cool?