For our honeymoon, we were able to visit some AMAZING cities. Shown below are our favorite photos from each destination. This is just a small taste of what we saw, and it was SO difficult to choose just one photo from each place.
We really enjoyed Rome, Italy; Venice, Italy; Dubrovnik, Croatia; Athens, Greece; Kusadasi, Turkey; Split, Croatia; Paris, France; Normandy, France; and Munich, Germany!
OH!
And did I mention that I didn't know we were going to Venice, Dubrovnik, Athens, Kusadasi, or Split until we arrived suddenly in Venice after we left Rome?! My sweet husband had planned a
SURPRISE MEDITERRANEAN CRUISE
for us! He booked it 18 months before we went on it, and he kept it a surprise all that time! I am so impressed, and we had a BLAST on the Norwegian Jade!
We flew to Rome from a friend's wedding in Pennsylvania with a stop in Toronto for 12 hours in the middle. It was my first international flight, and I was SO nervous. No, it wasn't fun. Yes, I hate flying. No, I didn't sleep despite the flight being overnight. Landing in Rome, however, was SO worth it! We had delicious food, saw so many historical places, and had a really good time.
Venice was unbelievably beautiful. The canal was gorgeous, and all the boats seemed so whimsical to me. It was a great city to be in to practice taking photos for sure. Venice is SUPER expensive, though. It definitely wasn't somewhere we could do a lot of things we wanted to do because of how high the prices were there. We had a blast walking around together and exploring the main area, though. We even took a water taxi once!
I also got what I call 'slut-shamed' at St. Mark's Cathedral. I know you're supposed to cover your shoulders and your knees, but it was just downright TOO hot for that. I saw so many people going inside without those things covered, so I thought I'd try as well. They didn't let me. I had to purchase two cover-ups for a Euro each. Blah. I had to wrap them around me, and an entire tour group was pointing and laughing at me at point. THAT was not cool, and Dan insisted on taking my picture... so I glared (see photo below).
I did have THE BEST frozen drink ever, which I bought from a vendor on the street. It was a mint flavored slushie, and it was the best flavor I could have imagine. Mmm.
Overall, we were only in Venice for two days, which I suppose is a good thing because it was my LEAST favorite city of our entire trip! It would be more fun if we had a lot of money, but since we were seeing so many cool places, we couldn't shall out the cash for a gondola ride or any fancy-schmancy restaurants here. Little did I know we ACTUALLY weren't spending a lot of money because the SURPRISE CRUISE was next! Yep, Venice is where that left from, and I had no idea we were going on one until we got off the train next to a giant ship.
We stopped first in Dubrovnik, Croatia. It was raining when we got off the ship, but we didn't let that stop us. We spent a full day outside exploring the old city and trying Croatian beer. It was a blast, and we were even able to take a cable car up a mountain for gorgeous views of the Adriatic Sea and the rest of the city! What a fun experience.
It was surreal seeing a normal functioning city that had been devastated by war in the 1990's. Parts of Dubrovnik had been bombed, and there was still cannons standing over the waters. It was so foreign to me to see a place that had been through so much and was so awesome now. They have really bounced back and offer a lot of charm.
We only had a day in Athens from our cruise, and both of us are dying to go back. We had such a blast walking around all day and seeing ancient sites that we'd only see in photos before. Greece is somewhere we both want to visit again when we have more time.
We saw Hadrian's Gate, the Parthenon, and the Acropolis. We ate delicious Greek food and the biggest piece of baklava ever. Athens was absolutely gorgeous, so I'll let the photos do the rest of the talking.
We definitely want to go back and explore more of Athens and the rest of Greece - it was such a neat place!
We had a lot of fun at the beach, though, and eating a Turkish lunch and enjoying Turkish coffee afterward was really neat. And when we got back on our ship, we were exhausted from so much time in the sun, so we napped... for a long time. But after that, we got all dressed up for our nightly dinner on the ship!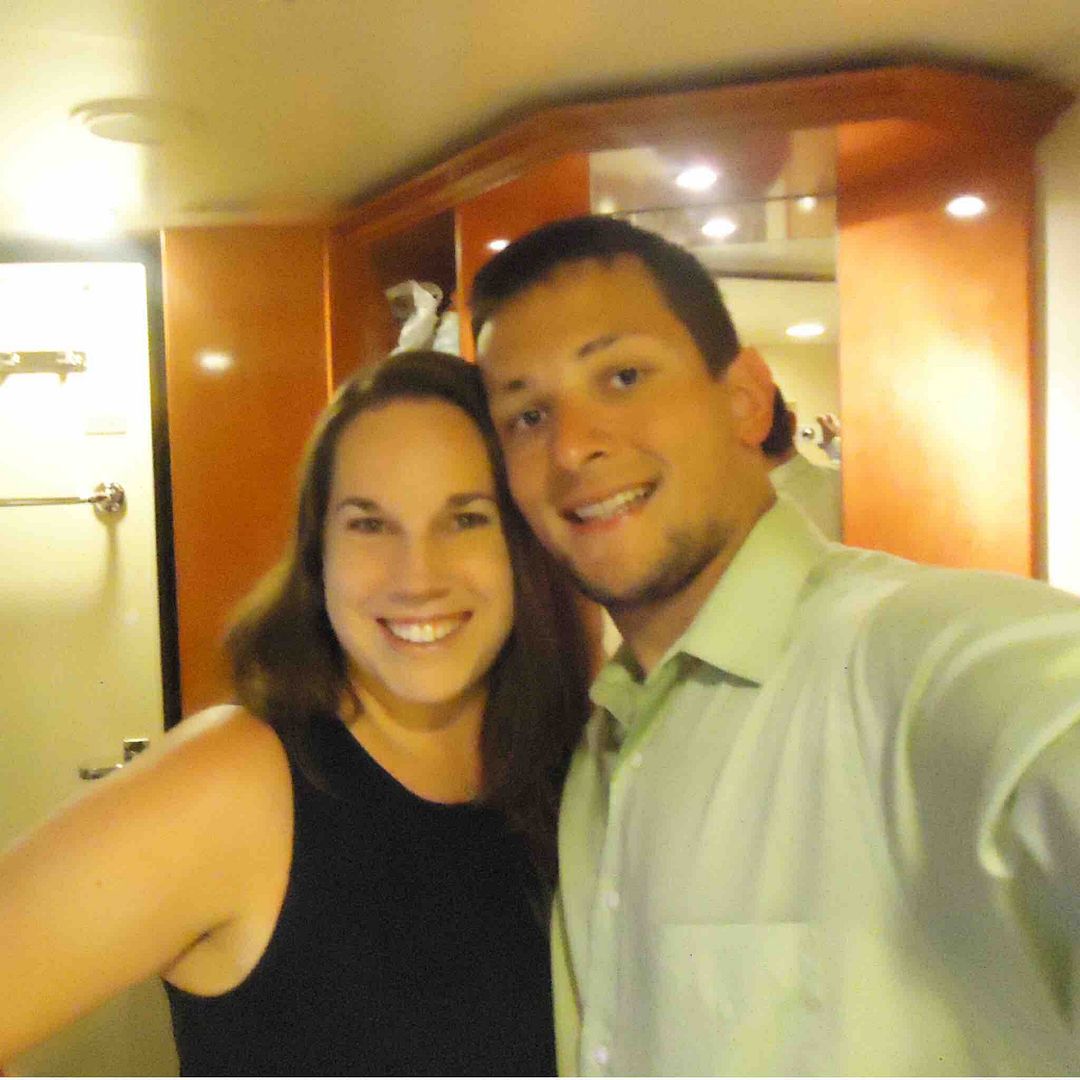 This one may or may not be blurry because we downed an entire bottle of champagne together in our stateroom before we headed to dinner... hey, it was our honeymoon - don't judge!
Overall, Kusadasi was a lot of fun, and we both want to check out more parts of Turkey - perhaps Instanbul - as soon as we can!
It was bright and sunny, and we made the most of it! We climbed up to the tip top of the bell tower, took way too many photos of the spectacular views, and just enjoyed it. We knew that once we stepped back on the ship, our cruise was essentially over (though we still had dinner and one more night on board). We had a great time walking around Split. I'd love to go back to the region and see more of the countries around Croatia - especially Bosnia. That whole area is so rich with history.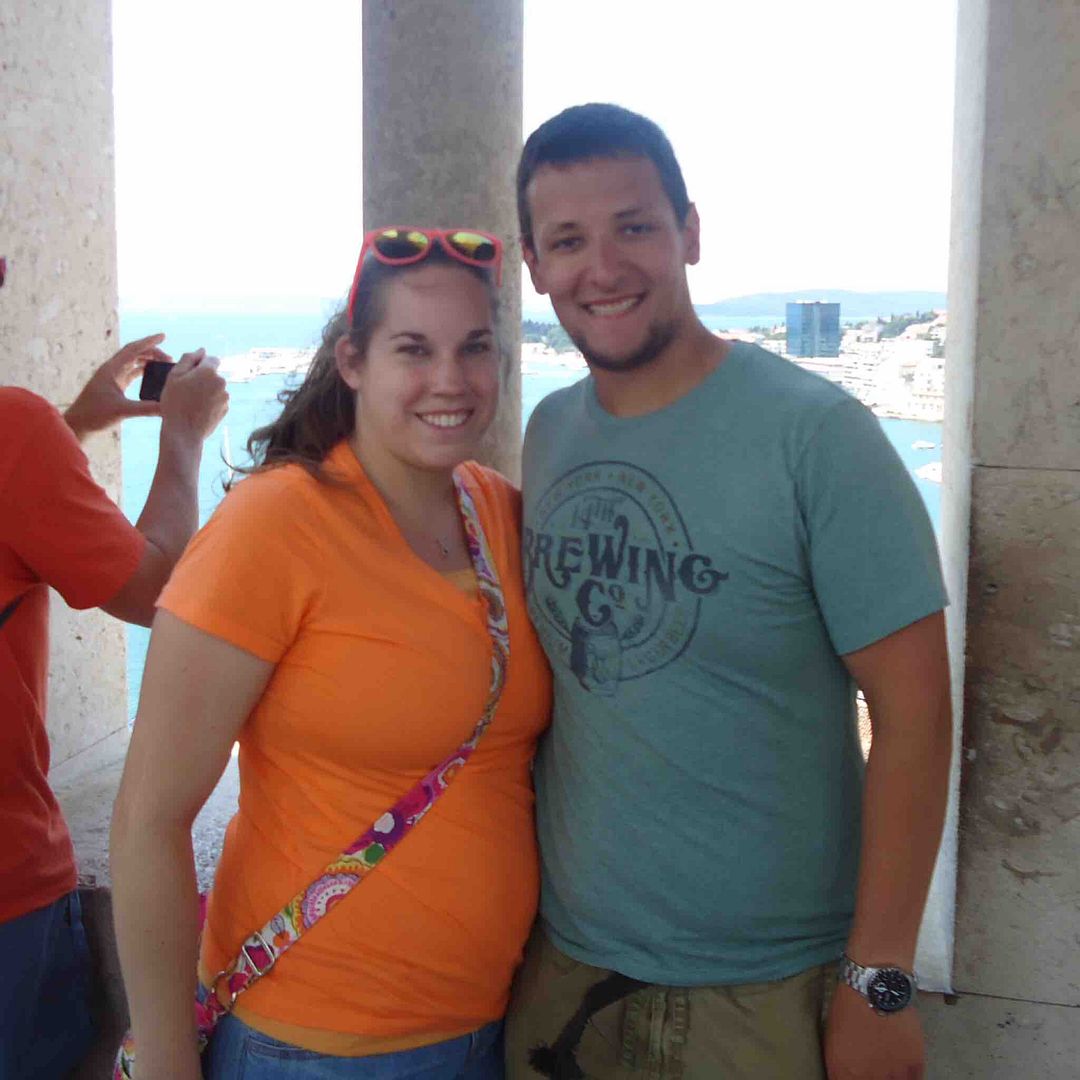 You can tell we had both been enjoying the buffets on the cruise ship at this point... it's a good thing we walked all throughout Paris shortly after we got off the cruise ship!
We were so sad for our cruise to end the morning after we toured Split. We had the best time on that ship, and I can't wait to go on another cruise in the future!
In fact, I really want to for a couple of reasons. 1) We definitely did not get to do everything on our list. It's just such a huge city, and we only had three days there. 2) I was really sick. I had a bad inner ear infection from the sleeper train we took to get from Venice to Paris after our cruise. I even ended up going to the emergency room at the American Hospital of Paris - where they actually still only spoke French - go figure. Instead of staying in, though, I fought my way through the city and still enjoyed it very much.
I'd love to go back when I'm 100% healthy and enjoy it even more. The bread was good, the cheese was good, and the wine & champagne were superb. Dan and I both enjoyed this part of our trip a lot. Seeing the Eiffel Tower for the first time from across the city made me jump up and down. Going to the top was AMAZING. The Arc du Triomphe was even better - there's just so much history surrounding it.
Checking out the Sacré Couer at sunset was unbelievable, and the Notre Dame Cathedral, flying buttresses and all, was incredible.
Every time I look through these pictures, I smile and think about how amazing our honeymoon was. I think this stop actually came in second place, though. My number one is coming up in my next honeymoon series post, though, so be on the lookout for that!
In a heartbeat, I would go back to Paris. I know seeing all of the sights would be just as amazing and thrilling the second time around.
Normandy was seriously our favorite stop on the entire trip! It was more laidback and relaxed than all of the big cities we visited (duh), and that was a nice change of pace. We were exhausted by this point of our trip.
I got to cross something off of my bucket list on this trip: running on Omaha Beach. I don't know why I wanted to do that so badly, but it was just as spectacular as I thought it would be. That's where all of the famous scenes from D-Day took place - it's where the Americans (and British and Canadians) invaded, and it was a major turning point in the war. American flags are hung up ALL OVER the little cities over there, and the people we met were so nice to us. It was amazing to see that part of history, and we even stayed at a couple's home from AirBnB.com - they were the cutest and made us typical French breakfasts each day. I could have gotten used to that.
We just had the best time in Normandy - the food was amazing, the scenery was gorgeous, and the history was rich. We visited the American Cemetery of Normandy, and it was surreal walking through there. It was immaculate, and we both felt pretty strongly about seeing that area.
We also got to tour all kinds of old German batteries - where they would try to shoot the Allied Forces from. They're falling apart, but some awesome French people keep them in tact so that history can live on and generations to come will be able to see what the Axis powers did during WWII. It was such a unique experience to be able to crawl through the batteries and see the old cannons. We had a blast being up close and personal to all of those.
We drove back to Paris after leaving Normandy (the only part of our trip we had a car), and on the way, we were able to stop at William the Conqueror's castle - talk about neat as well! This place is just amazing, and I HIGHLY recommend taking a trip to the Normandy region!
Whew! Looking through these pictures sure takes me back... and we'd head back to the Normandy region in a heartbeat! It was seriously the best.
We stayed in the Munich area. On the first night, we ended up at a university's cookout somehow, and that ended up being pretty interesting. We also ventured to the world famous Hofbrauhaus for dinner, which was quite the experience! I can't believe how crowded, busy, and loud it was in there - but the food was pretty good! I recently found out that there is one in Columbus, OH, so I'm excited to take Dan to that since he loved it so much!
We were also able to tour the BMW plant (which is HUGE), check out the Olympic Park, watch the show at the Glockenspiel, walk around the Nymphenburg Palace, and see several old churches. Overall, Munich was really cool - the weather just slowed us down for sure. We spent one day inside at a science museum to avoid the rain, which is something we both enjoy.
We did get the call to head back to the USA during this stop on our trip - Dan's mom wasn't doing well, and we needed to make it back to her. We booked a next day flight, took a train from Munich to Frankfurt, and flew through Alaska to Portland, where we were able to see her before she passed away. It was a difficult, emotional time for Dan, but we are glad we made it back in time!
Even though our honeymoon didn't end on the best note, we had an amazing time. All of the cities and countries we were able to see were gorgeous, and we had the best month together exploring new places. We hope to make it back to Europe in 2015 to continue our honeymoon while Dan is on break in between one of his graduate school quarters. We didn't make it to Prague, Warsaw, Krakow, or London, and we hope to hit a couple of those this year on Honeymoon V 2.0 - can't wait!