This post is my third installment of USAFA grad week festivities, and it is the last! If you want, check out the
graduation parade
,
commissioning ceremony
, and the
graduation gift
I gave Dan. I will have a couple other posts coming up about events that took place during the same week (rehearsal dinner and wedding), so be on the look-out for those!
On Wednesday, May 28th, 2014, Cadet Lovemuffin graduated from the US Air Force Academy and became Lieutenant Lovemuffin.
It was a picture perfect day. It was sunny but not too bright. It was warm but not overbearingly hot. We had fabulous seats on the 50 yard line inside Falcon Stadium to watch the graduation. Everything went as planned, and my heart did not jump out of my chest... although it was definitely a close call!
Dan was in squadron 39 of 40 at the Academy, so we had to wait until nearly the VERY end to see him walk across the stage and shake Vice President Joe Biden's hand and receive his giant graduation packet.
When Dan was done on stage, however, and walking back to his seat, he turned and looked at us (both of our families and me) in the stands, smiled really big, and held up his diploma packet. I swear I was about to burst with excitement, joy, and pride for him! He worked his butt off for four long years at the Academy, one year at the Preparatory School before that, and for two years in civilian college in Missouri before he applied to USAFA. After seven years of school, his dream had finally come true. All of his hard work had paid off. I knew what a huge moment this was for him, and my heart was racing for him.
As soon as he made it back up to us after the oath took place, he kissed me, and I just about melted. I knew it was over then. Not us. We were just beginning, as the kind men and their wives behind us who had graduated in the 80's and 90's reminded us. But the Academy was FINALLY OVER WITH, and while it was 100% worth all of the shenanigans, it was tough. Those years were just plain difficult, and no, the time did NOT fly by as many people say. It was HARD. But it was also completely worth it in the end. And we did it. We made it into the 2% Club!
(Some authority at the Academy has done research and found that only 2% of cadets who are in a relationship at the beginning of their time at USAFA are in the SAME relationship when they graduate four years later - and we made it to that esteemed 'club' - and it feels great!)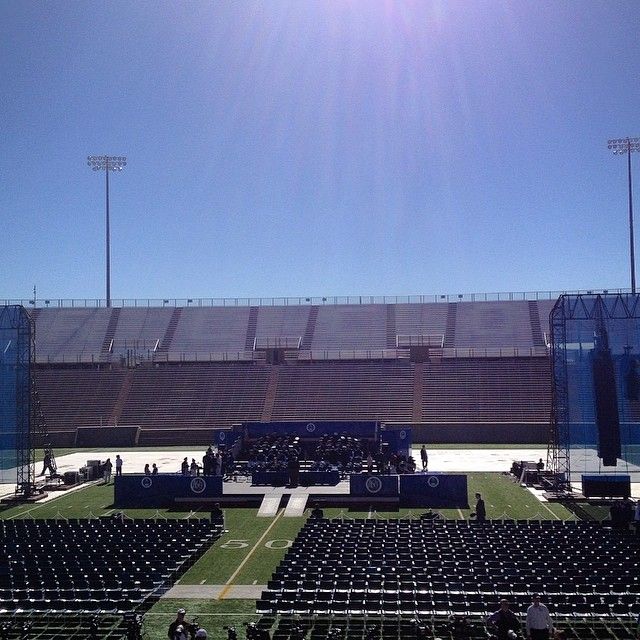 Before everything started, it was empty inside Falcon Stadium... the seats awaiting the 1,000 graduating cadets.
Dan was in the back row because of his squadron, so it was awesome being able to see him the entire time! No one believed me that it was him, but I know the back of his head anywhere - and I was right! :)
Dan after he just shook the VP's hand and received his graduation goodies!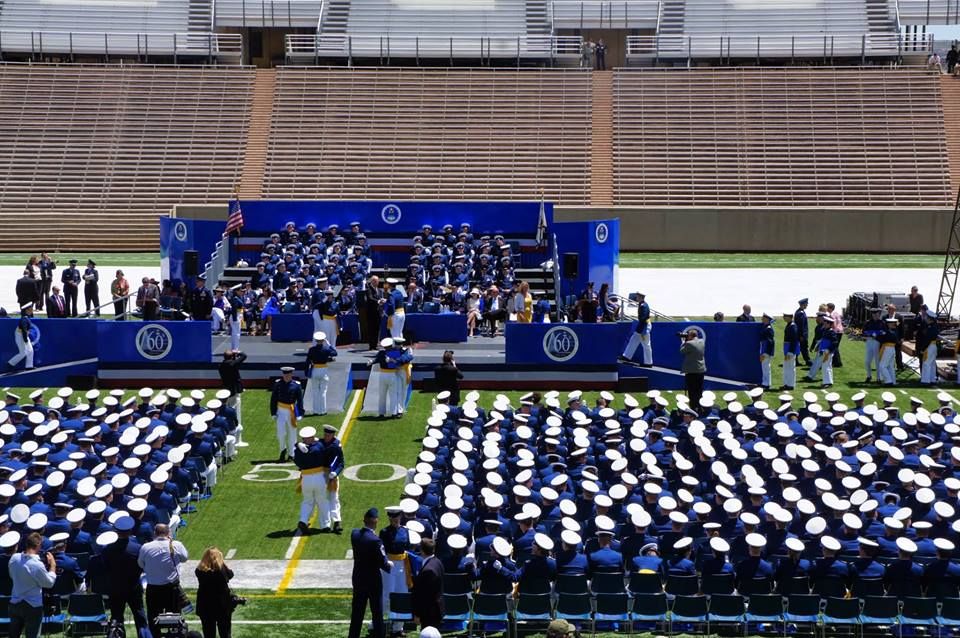 Here he is hugging a classmate: it's all over with!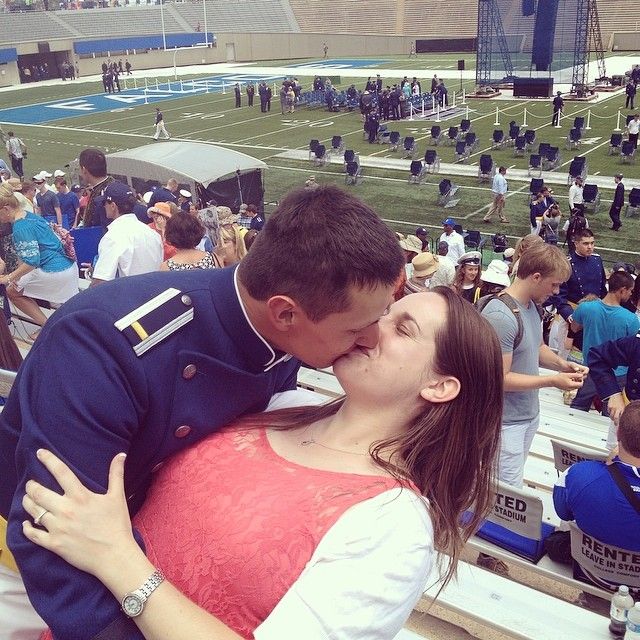 Of course he kissed me when he made it back up to the stands... and it was the best feeling! USAFA is over with! I still want to scream and shout it! :)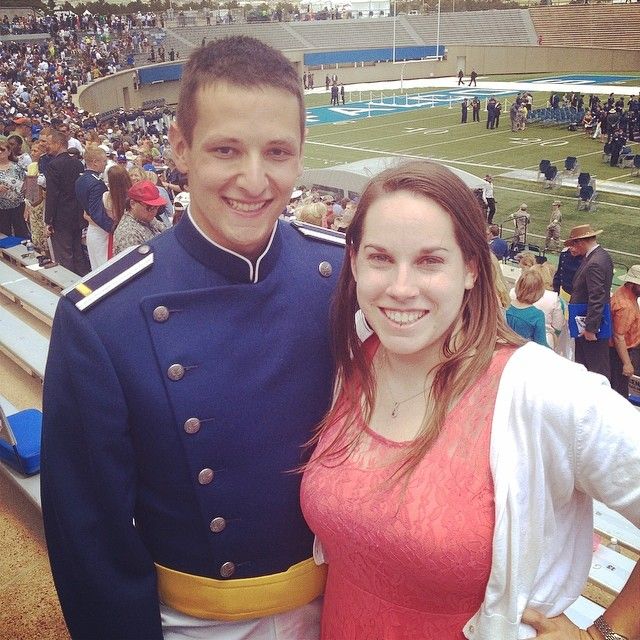 Can you tell how HAPPY we are? YEARS in the making!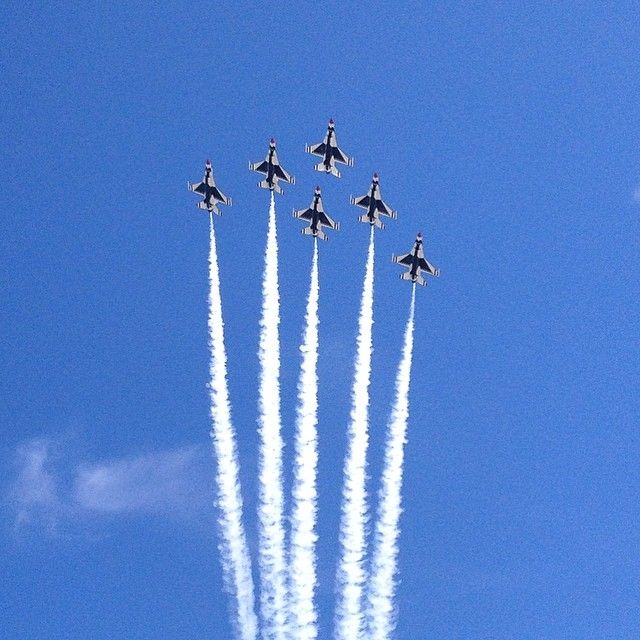 The US Air Force Thunderbirds did a half hour performance after graduation ended, which was really cool to watch. Maybe someday I'll know a Thunderbird pilot (hint hint Lindsey!)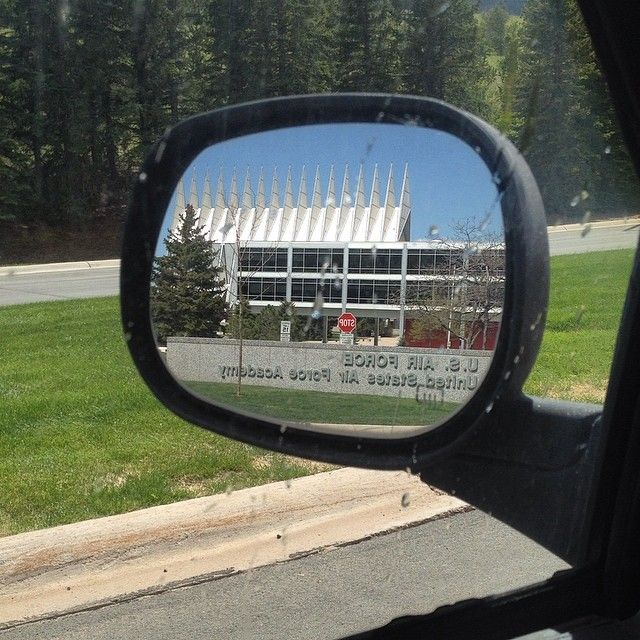 We had to take the stereotypical rearview mirror photo of the USAFA chapel... looking back, we had some incredible times on that base. We decorated rooms, went to bonfires, talked in Arnold Hall, went to Ring Dance... it was a complicated four year journey, and I'm not too sad to see it behind us, just like in this picture.