If you missed my previous bumpdates, you can check out
weeks 5-12 here
,
weeks 13-14 here
,
weeks 15-16 here
,
weeks
17-18 here
,
weeks
19-20 here
,
weeks
21-22 here
,
weeks 23-24 here
,
weeks 25-26 here
,
weeks 27-28 here
,
weeks 29-30 here
,
weeks 31-32 here
, and
weeks 33-34 here
! I've decided that at the very end of this, I'm going to make a book out of all of my weeks so Baby Cookie can look back and read through them someday. I also hope to make one giant blog post compiling all of my weeks together to see the progress.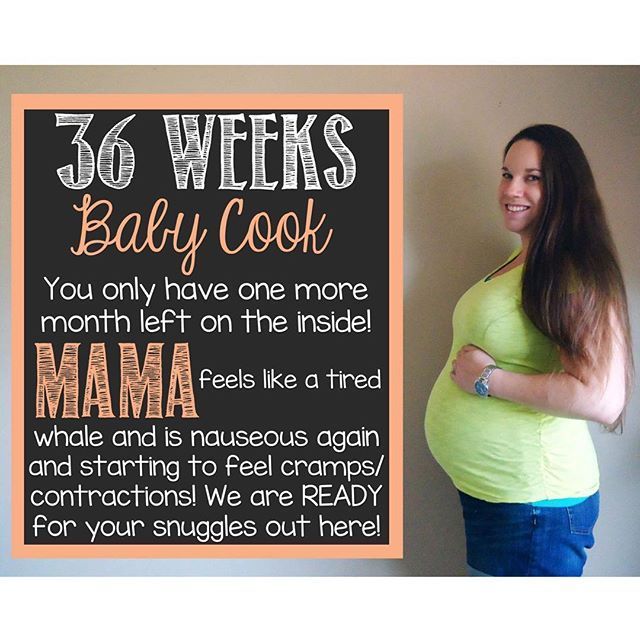 How far along? 36 weeks
Size of baby?
35 weeks: honeydew melon
36 weeks: head of romaine lettuce
Total weight gain? I'm finally gaining... and I hope it's all baby! I'm up 7 pounds now!
Maternity clothes? Yep - all the time still except for some huge t-shirts!
Sleep? I'm getting maybe three hours a night altogether... but I am in bed for eight hours or so. Heartburn, aching hips, cramping/contractions, and needing to pee are all keeping me awake at night!
Work outs? Walking through the grocery store leaves me huffing and puffing. It'll be fun to see how I do at the baseball stadium later this week!
Cravings? What I'm craving now is basically not cooking... which is funny, since Dan and I prepared 32 freezer meals over the weekend! So over cooking.
Aversions? Still tomatoes and peppers because they are causing heartburn at night.
Best moment of this week? We took one last road trip to see some wonderful friends get married in KC!
Worst moment of this week? On our road trip back to Dayton, I started cramping and having some small contractions... got checked out, though, and all is good. The midwife said she does not see the baby coming "this week" - so we'll see! Could this be my last bumpdate? I'm thinking not... but she may surprise us!
Looking forward to? Having this baby out of my body and in my arms!!! Baby Cookie, I know your timing is your timing, but we are so anxious over here!