Welcome to Food Friday! Last week, I promised that I'd be back this week with another muffin recipe... so here it is!
These double chocolate chip muffins are JUST LIKE the ones you find at the grocery store... you know, the really big, dense muffins that feel more like cupcakes but you call them muffins to justify eating so many? Yep, those.
I have been obsessed with all things chocolate lately. Maybe it's the baby, but in reality, I've always loved chocolate. I'm just okaying it a bit more now because I can blame it on the little life inside me! ;-)
Seriously, though... these are great. I am so glad I finally have a recipe to make these too. I know EXACTLY what goes into them, so I don't have to worry about the ones from the store anymore... because let's be honest: I bought those. Not frequently, but I did. Never again. These are so alike and not difficult at all, so I'll be making them from now on. I may or may not have individually wrapped them and popped them in the freezer so I can that have them whenever I want. Yep.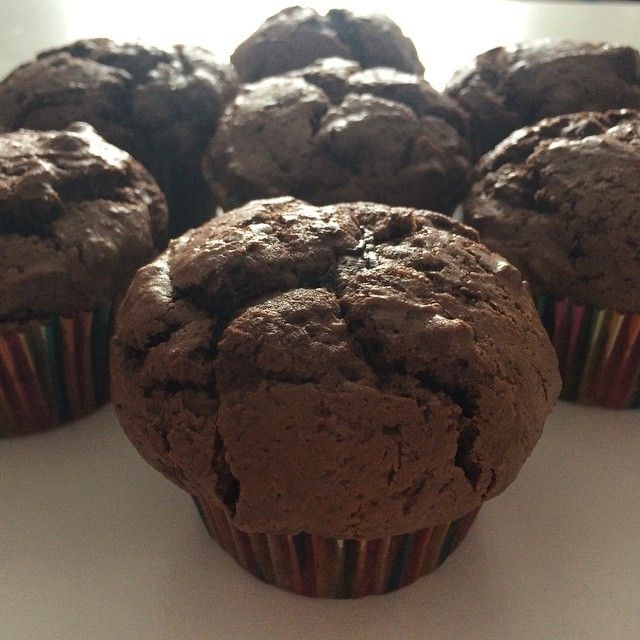 Double Chocolate Chip Muffins
INGREDIENTS
• 1/2 cup butter, softened
• 1 cup sugar
• 2 tsp vanilla extract
• 2 tsp baking powder
• 2/3 cup cocoa powder
• 1/2 tsp salt
• 2 eggs
• • 3/4 cup milk
• 1/3 cup sour cream
• 2 cups flour
• 1 1/2 cups chocolate chips (I use the mini ones)
DIRECTIONS
1. Preheat oven to 350º, and line a muffin pan with 12 liners.
2. Cream together the butter, sugar, vanilla, baking powder, cocoa powder, and salt until light and fluffy.
3. Add the eggs one at a time, beating with each new addition.
4. Add the milk and sour cream.
5. Add the flour and chocolate chips.
6. Mix until ingredients just combined.
7. Divide batter between 12 muffin liners. *Batter will be VERY sticky.
8. Bake for 25-27 minutes or until a toothpick comes out clean.
Are you a chocoholic?
What is your favorite chocolate dessert?