Well, hello! Happy Tuesday! I hope everyone had a great start to the week. When I was teaching full time, I always dreaded Mondays... not because I didn't like my job (because I loved it!) but because it meant waking up early. These days, I get up when my husband leaves for work, and I can ease into my day by listening to my favorite radio show while sipping my (decaf) coffee.
Many of you know that I've had a little
Etsy shop, Two Cats Decorations
, for a year and a half. I just love it! I wanted to take a little bit of time today to share one of my products with you and host my first giveaway on the blog: my kitchen pun magnets. I LOVE making these, and they were a big hit for Christmas orders - I sold over 25 sets of these bad boys during the holiday rush in various colors, and I can't wait to send a set to one of you!
I just love these. I also sell other designs of kitchen puns (16 total right now) as prints and printables in my shop, but I chose just six to feature on the magnets! The best part? They are available in 33 different colors, so you can choose the one that matches your kitchen decor... or a friend's if you plan on gifting!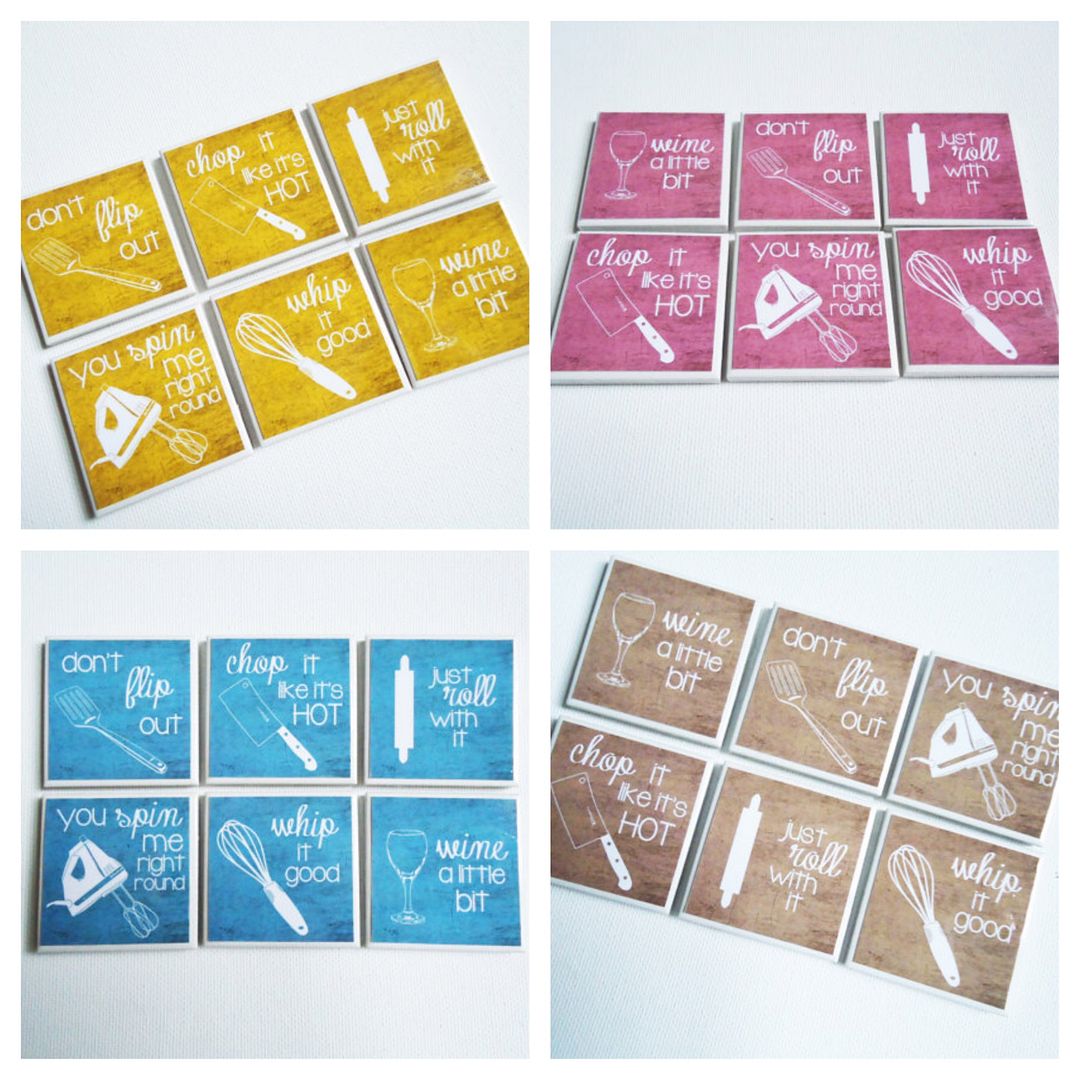 Here are the colors they are available in. All colors come in the distressed look shown above. The first photo is color 18, and in the collage, you see colors 3, 8, 23, and 30. The most popular colors in my shop in terms of sales, though, are definitely 10, 12, 14, and 21. I have sold multiple sets of each of those colors.
And now for the fun part! The giveaway! I will be giving away one set of kitchen pun magnets to one lucky winner (who will be chosen randomly and announced on the blog on Monday, March 16th). The contest begins on Tuesday, March 10th and ends at midnight EST at the end of the day on Friday, March 13th. You must have a shipping address in the USA or an American military base overseas to win.
a Rafflecopter giveaway
I'm so excited about this giveaway. Make sure you check out my
Etsy shop
, and if you're a member, I would greatly appreciate a "favorite" of my shop!