A couple weeks ago, I made a post where my readers could ask me anything! And you guys did not disappoint - I have several great questions to answer today that I have broken up into five categories: running, baby, personal, military, and random.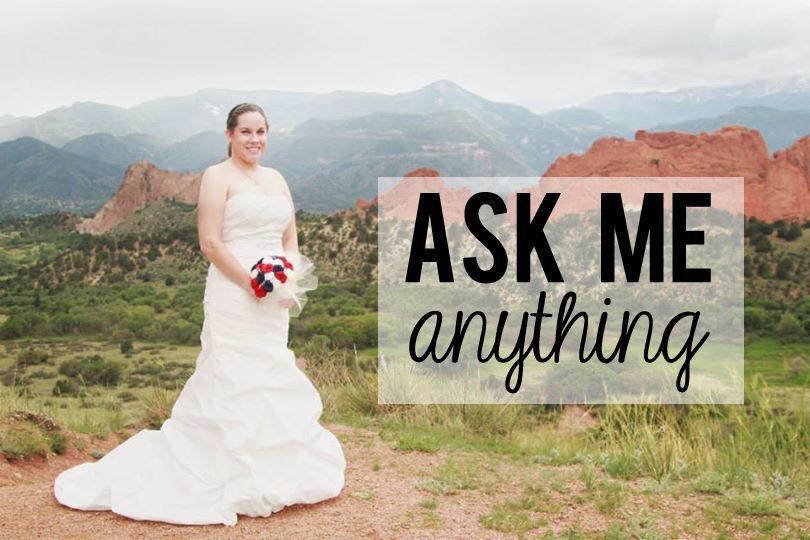 1. What advice would you give to a new runner? Don't give up! Seriously... that's the best advice I've ever gotten about running, and I've been at it for well over half my life. Running is a sport where you compete against yourself. It can make you feel good or feel defeated... not every run is a good one, but there is something good in every run - even if it's learning to listen to your body or not be so hard on yourself. Adding distance to your routine takes time... it doesn't happen overnight. Don't push yourself too hard too fast, or you'll get hurt. Instead, increase your mileage gradually, and I promise, your heart will fall in love with running. I like to run because it gives me time to be alone with my thoughts. When I was marathon training last year, I started out dreading my long runs because I had no one to run with. But I grew to love them and even look forward to them because of how I felt during and after my run.
2. How do you get to the point where you like running? For me, this did take some time. I first joined cross country more for the social aspect of it - some of my friends were running, and I wanted to hang out with them. I could run three miles when I started because I always played sports and ran by myself to maintain my fitness, but I wasn't fast, and I certainly couldn't run farther than that. Over time, I saw my body become stronger and, more importantly, my mind became stronger too. I learned how to push myself through rough situations in both running and in life, and I feel like I really grew from that experience. All I can say is keep at it - and if you make the commitment, the results will have you enjoying it.


1. What names are you considering for your bun in the oven? Ah, this question is great, and we have actually gotten it a lot from friends and family already. We won't be sharing the name of our baby until his or her birth day, but just know that we have agreed on a girl's name already, and it's a more classic/traditional name. A boy's name, though? We have no idea. There are a couple on the table that we both LIKE but don't love... so we're not quite there yet. I think we'll put more energy into thinking of a boy's name if we find out we're having a boy... and if not, we already have our girl's name ready!

1. What made you want to move to Colorado while Dan was at the Academy? Simple answer: Dan. More complicated answer: I was scared of long distance. We did one year of it, and it was not fun. And if I didn't move, we would face four more years of it. That didn't sound like fun to either of us. He was very supportive of my decision to move, but he let me make it on my own. He never pressured me to move out there for him, and I will forever thank him for that. It also just made sense because I was beginning my teaching career, and the job market in Missouri for teachers was in shambles in 2010. It helped knowing that I would have more opportunities in Colorado.
2. Was it a tough decision? Not at all. I think the timing was right since I was graduating. It would have been a much tougher decision if I were beginning or in the middle of school, but it felt like a completely logical decision to make. And moving there was the best decision I ever made!
3. Do you plan on going back to teaching when you and Dan move to your next station, or will your blog and Etsy shop be your job? I hope to return to teaching SOME DAY. As for our next duty station, no. I probably will not even look for a job because Dan will have crazy hours, and we'll have a 7 month old - one and a half year old baby at the time. I do plan to continue blogging regularly and keep up with my Etsy shop as best as I can.
4. Was it hard not having some loved ones at your wedding since it was out of town? We didn't have too much of a problem with this because we planned our wedding so far in advance. Family members know exactly when and where it was going to be for two years ahead of time, so they had ample time to prepare and make appropriate accommodations. The only person who couldn't make it was Dan's mom, and while that was very upsetting, it was due to her health and not necessarily our wedding being in Colorado... because it wouldn't have been in the state where she lived anyway, had it been "at home".
5. What made it easier to "be away" from Dan while he was at the Academy? Being away from the person you love is never easy, and I was fortunate to get to see him nearly every weekend throughout those four years and sometimes on one weeknight too. That said, he did compete on the flying team, so when he was out of town for competitions or training, it made it easier to become comfortable with alone time. I have always enjoyed my own company, but I didn't truly LEARN that about myself until I was put to the test. If he had training on a Friday night, and friends were busy? No biggie - I'd head to the store or my favorite restaurant after work and hitting the gym, and I'd get whatever food I wanted for that evening and a bottle of wine. I would watch Netflix or read a book all evening. I thoroughly enjoyed those evenings, as they helped me to unwind from crazy weeks working with middle schoolers.
6. Are you going to stay home with Cookie or start teaching again? I already touched on this, but I will definitely be staying home with Cookie until he or she starts school. Then, I may go back to teaching. We'll see!
7. What is your best memory from your childhood? Ahh, this question is tough! I have so many great memories from childhood... and most of them revolve around acrobats. I can't pick any specific moment, but I started tumbling when I was really young and kept going until middle school (when I got hurt and was too scared to go back... the only real regret I have in life). I had an amazing coach and so many great friends there... and I just absolutely LOVED it. I loved competing close to home so my extended family could come watch, but I also loved traveling for meets and competitions. I hope I'm able to put my kid(s) in some kind of tumbling, whether full gymnastics or not.
8. How many kids do you eventually want? We both want two kids. Ideally, we would have a girl and a boy, but we know we can't plan that. We may choose to adopt our second child. It's something we discuss a lot, but we are not set in stone with that by any means.
9.
Tell me about your spiritual journey and getting baptized as an adult. Great question! I talk a little about it in this post, but I'll expand a little bit here. I didn't grow up in a family that went to church, but I went reluctantly with friends several times, always hating it and feeling judged. One day, it just hit me, and I read the entire Bible (okay, so that took me a year). Then, I was feeling really inspired, so I started going to church regularly with Dan, and then we did a Bible study with his sponsor parents, which really fueled my fire. I ended up getting Baptized at our church in Colorado Springs (Sunrise Methodist Church), and it was a wonderful experience. We now attend Ginghamsburg Church (which is much larger) in Tipp City, Ohio, and attending regularly, taking a class, and working each week with the 7th and 8th graders in the youth group have definitely helped me grow even more in my faith.

1. When Dan starts pilot training, what will his days be like? Dan starts pilot training next year (sometime after April 15th), and his days will be busy. He will have a first phase of academics, which won't be as long, but he'll have a lot of studying to do at home. Hopefully, he'll be a little ahead of the game since he has flown for so long already, but a lot of the civilian and military flying are not the same, so he'll have a lot to learn. Once he starts flying, he can have 12 hour days or even longer. It's definitely going to be a test for us, and it'll be much busier than graduate school, but he is looking forward to getting back into the pilot community, and so am I for a better sense of community!
2. How do you plan on dealing with deployments? This is something I've thought about often and have been bracing myself for. I know that Dan isn't deployable now, and he won't be until he is finished with pilot training and trained in his aircraft... but it's something that's always on military spouses' minds. I try to make friends wherever we are, so hopefully I'll know some other spouses who have deployed husbands at the same time, so we can tackle it together. My family also lives in the smack dab middle of the USA, so it's easy to visit them, so long as we're stationed in the USA. I also have heard of making "deployment bucket lists", which I think is an awesome idea. The idea is to make a list of things you want to accomplish for yourself while your husband is gone. Not only will that make the time go by quicker (I tried it when he was TDY or in training while at the Academy), but it will also give you a sense of purpose.
3. Does Dan's grad school lengthen his commitment, or does it count toward it? Dan's grad school does not count toward his ten year commitment in the Air Force since that begins after completion of pilot training, which he has not done yet. He was prior enlisted before going to the Academy and commissioning, though, so he already has a few years under his belt anyway. He plans on going 20 years so he can retire, though, so we'll see what happens.
4. What are some places you guys hope to be stationed? We would love to be stationed in Colorado Springs (surprise, surprise), but unfortunately, no active duty aircraft fly out of there, so it's highly unlikely. We would also both love to go to Alaska... and Dan really wants to be stationed overseas. I think I could handle England, but I'm super hesitant about any of the other countries. I know it's not my decision (or his entirely either), so if it happens, I will go with the flow and embrace it... but I'm definitely more a fan of staying stateside.
5. How do you feel about your future children being in the military or being a military spouse? This is a good question and something I've actually thought about! Dan and I joke that our kids are going to go to one of the Academies so we don't have to pay for their college. We won't force them, but if they do, they'll get some of the money we had saved for their college. I'm not super comfortable with the idea, obviously, as I've been on the other side, but ultimately, we will support whatever path our kids choose to take, whether it means they are in the military or not. As for being a military spouse, I hope that they will see it as a positive thing and embrace it if they fall in love with a man or woman in the military. Growing up, they'll also see the tough parts, though, so they will at least be able to make an informed decision.

1. If you could live anywhere in the world, where would it be? This question is easy for me right now: Colorado Springs, Colorado! I love that city and spent an amazing four years there. I would love to go back and live there again, and as of now, we plan to move back there after Dan retires. We haven't been everywhere, though, so that may change... but I doubt it!
3. What's your favorite (easy) meal to make? I love easy meals! This one does require some prep work beforehand, like chopping an onion and grating a block of cheese, but for the most part, everything kind of just cooks itself after that. The recipe I will always go-to when I want a "favorite" is my Broccoli Cheese Soup (and it's full of other veggies too and tastes even better than Panera's... in my opinion).