As we approach Thanksgiving, I've decided to showcase some of my absolute FAVORITE vegetarian side dishes. Since I don't eat turkey, I live on sides during the holidays... and I wouldn't have it any other way! Side dishes are the BEST, so I'll be posting one recipe a week until Thanksgiving to give ideas to my fellow vegetarians (or anyone with taste buds, really).
This recipe is a favorite of mine. No, it's not healthy. I won't even lie about that. But this is
THE BEST COMFORT FOOD
you will
EVER
find!
Ingredients Needed:
Medium Pasta Shells
Penne Pasta
1/2 of an Onion (your favorite kind)
2 Cloves of Garlic
4 Tablespoons of Butter
2 Tablespoons of Vegetable Oil
1 Cup of Milk (I use almond milk, but cow's milk works great too)
1/2 Block of Velveeta Cheese
2 Cups Shredded Cheese (any kind - I like to mix several different kinds in)
Salt/Pepper to taste
The Recipe:
1. Cook pasta (both types together) to your preference. I like it just softer than al denté.
2. While the pasta is cooking, dice your onion and garlic into small pieces.
3. Add vegetable oil and onions to frying pan, and sauté them on medium heat for about five minutes.
4. Add the garlic to the onions and continue cooking over low heat for another two to three minutes.
5. Remove onions and garlic from heat.
6. Strain pasta.
7. Add butter, milk, and Velveeta cheese to the saucepan to create a creamy sauce.
8. Add the pasta back into the saucepan with the sauce, and stir it up.
9. Add the sautéed onions and garlic to the saucepan.
10. Add the shredded cheese gradually, stirring as you go.
11. ENJOY!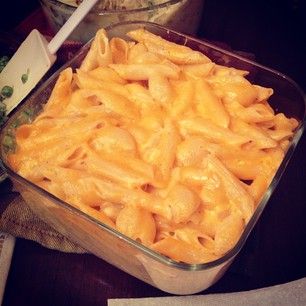 I hope you enjoy this recipe! It's my go-to mac & cheese recipe when I have people over since it's such a crowd pleaser! Let me know what you think if you decide to try it!