*Tyndale House Publishers provided me with a complimentary copy of this book in exchange for a review.*
Think 4:8 - 40 Days to a Joy-Filled Life
, by Tommy Newberry (with Lyn Smith), is an uplifting book based on scripture.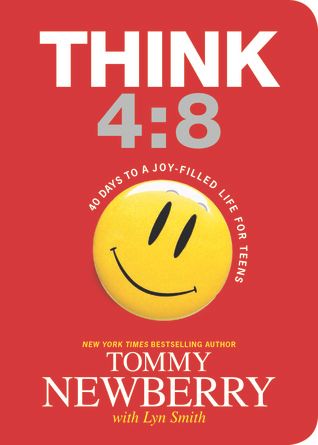 As always,
Goodreads
provides a wonderful synopsis:
The best-selling author of "The 4:8 Principle" and "40 Days to a Joy-filled Life" returns with a special edition for teens. In just 40 days, teens can change their minds and their attitudes. Tommy Newberry, together with writer Lyn Smith, takes teens from thinking negatively to thinking positively, which will change their entire outlook on life. Not only will this devotional make teens think more positively and have a better attitude, this devotional also points teens to Scripture and helps them understand more about God. The devotions not only help teens understand how their thought life determines their perspective, but they also help them focus their minds on godly truths so they can live out their faith. This book is the perfect way for teens to get a new attitude and start living a fulfilling, joy-filled life in just 40 days.
Please note that I am not a teen. I am a 26 year old woman, but I selected this book to review for two reasons:
1) I am still in the early stages of discovery when it comes to my faith, and
2) I work with teenagers on a daily basis as an 8th grade teacher.
First of all, this book is based on a verse from the Bible, Philippians 4:8.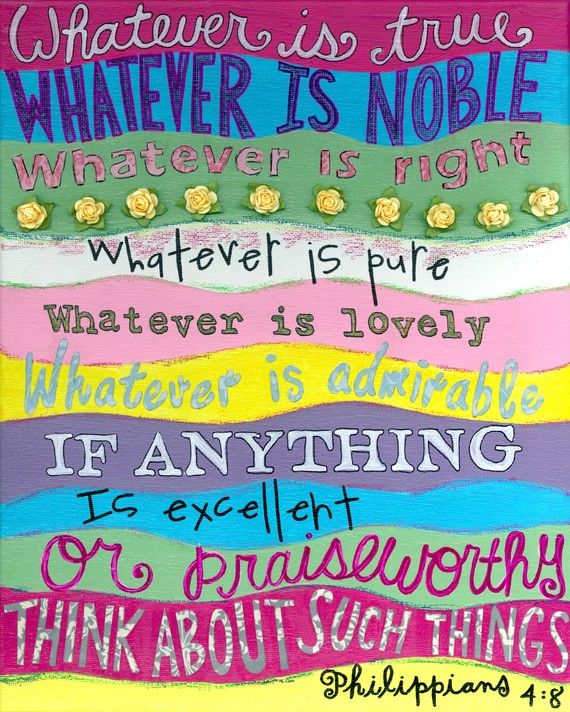 What I loved about this book:
1. I LOVE how Think 4:8 is a daily devotional. It is so much easier to comprehend the "lessons" each day when you have a limited amount of reading to do.
2. I enjoyed the exercises at the end of each day's reading. Sometimes it was a challenge to fill in the blanks in the tables provided, but I was really thinking about my life, what makes me happy, and how I can add more joy to my life just from thinking like Jesus.
3. I appreciated the reminders of the scripture this book was focused on throughout the 40 days. Philippians 4:8 will forever be in my head now, and I am hoping it will continue to focus my thoughts on positive things in life and bring more joy to my life.
What wasn't the greatest:
1. Some of the scenarios were a little unrealistic for me, as they discussed talking to your parents, teachers, etc. about situations. As an adult, that is strange; however, I acknowledge that I am an outsider looking in as a 26 year old. I still think this book would be a phenomenal tool for adolescents who are looking to grow in their understanding of God, feel better about their own lives, and find more happiness in the simple things.
All in all, I highly recommend this book to not only teenagers but to
ANYONE
who is looking to focus their thoughts on what is true, noble, right, pure, lovely, admirable, excellent, and praiseworthy. As an adult, I was only put off a couple times, and I took
MUCH MORE
out of this book than was lost on me. If you're trying to rid the negativity from your life and focus on the positive,
READ THIS BOOK.
Seriously.
What is your favorite faith based book?
Have you ever received a book in exchange for a review?