Tuesday, September 10th Prompt: Describe a moment when your life took a distinct turn.
You all thought I was going to write about when I fell in love with Dan after saying that I'd never get myself into a military relationship, didn't you? Well, I'm not. Okay, I was going to, but I decided that was too overdone... so ANOTHER time my life took a distinct turn was when I changed my major at the end of my freshman year of college.
You see, when I entered college at the University of Central Missouri back in 2006, I thought I wanted to be a doctor of some kind. I didn't have anything figured out - doctor, dentist, veterinarian... you name it; I thought I could do it. And I'm sure I
COULD HAVE
... if I had really wanted to.
There was one distinct day, however, that sticks out in my mind as life changing. For most of my first year of college, I was a biology major/chemistry minor. I was in my Zoology class during the spring semester of my freshman year. So far, everything was fine... except I didn't really LOVE what I was doing. That day, though, we dissected a fetal pig. No biggie, right? I had dissected plenty of animals already. That pig, though... it just tore me apart. I couldn't handle it. I turned white and felt faint, and my professor suggested that I step out into the hallway for a few minutes.
Well, a few minutes passed, and I wasn't in the hallway any longer. I marched myself straight across campus and changed my major to what I thought it should be from the beginning (but had been too nervous to choose due to lack of employment opportunities).
ENGLISH
. I would follow my heart and major in English.
I eventually added "Education" on to my English major so I'd be able to secure a job, and I found out that I love working with teenagers. I can't imagine my life any other way, and I'm so glad I had a life changing moment in the spring of 2007 in my Zoology lab.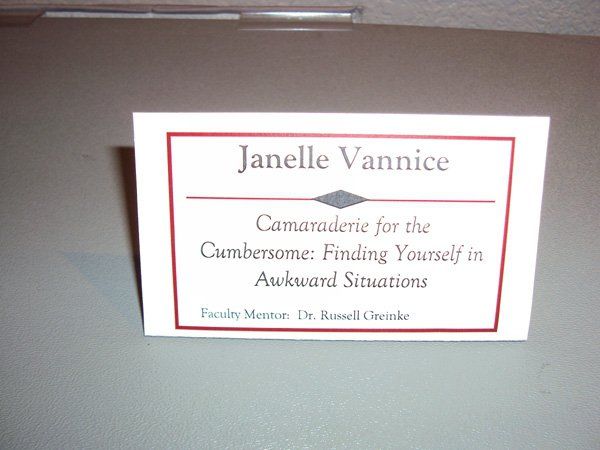 My name tag for my Honors' Project at UCM - it was a collection of exaggerated personal vignettes, and they were SO much fun to write!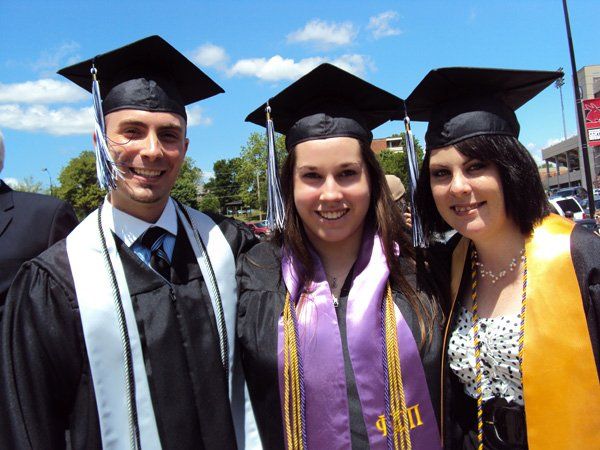 Right after graduation with my two best friends (and fellow English Education majors) from UCM! I'm really excited that we all keep in touch still!