How about that, Kansas City?
First, the Kansas City Chiefs STOMPED all over the New England Patriots during Monday Night Football action at Arrowhead Stadium, winning 41-14. That was AMAZING to watch. I grew up going to those games, and it's been tough since moving away from home. I still love them just as much and get goosebumps when they do so well! And some of the Royals players made the trek across the parking lot to cheer on the OTHER hometown team, which I thought was SUPER cool.
However, they're not the point of this post.
THE KANSAS CITY ROYALS ARE!
Those Boys in Blue have done it! They have gone to and won their first playoff game since 1985 - no joke! They had the longest streak in the MLB of not going to the playoffs, but that streak has been broken!
I may be biased, but Kauffman Stadium is one of the most beautiful places on Earth. Here it is before the game last night.
I grew up ten minutes from Kauffman Stadium. Royals games were a regular thing in my house. My parents would take my brother and me to see the boys in blue play all the time. In that entire time, though, my brother and I had neither one seen the Royals go to the playoffs. Ever. We heard stories about how great the franchise used to be. We saw World Series paraphernalia (like unopened beer bottles with I-70 Series labels) from 1985 - not even kidding. But we never saw the Royals go to the playoffs.
Seriously, guys. They hadn't even been to a playoff game since 1985. And all of these amazing fans still supported them along the way.
This week, that changed. They won HUGE last Friday night, which sent them to the Wildcard game at the K (Kauffman Stadium) on Tuesday evening. Living in the Eastern time zone now makes things difficult. The game started at 8:07PM for me. I thought, okay, I'll stay up until 11:00, no biggie. But then the game was tied at 7 (after the Royals made a phenomenal comeback, might I add, from being down 7-3 in the 8th inning). So we went into extra innings. The 10th inning happened. Still tied. And then the 11th inning happened. AND THEN THE 12TH INNING.
The Royals FINALLY won 9-8 in the bottom of the 12th inning... which was 12:55AM here in Ohio. Yep, I stayed up until 1:00AM for a baseball game. I'm THAT girl, and I'm PROUD of it! I am so happy my parents raised me to be a loyal hometown fan. I am ALWAYS proud of the teams I love, but I cried. Literally, I cried when the Royals won the game. My husband was fast asleep (loser/nerd), so I had to celebrate on my own. My adrenaline was pumping, and I could not fall asleep. I contemplated popping open some champagne, but I decided against it since I was alone and it was the middle of the night mid-week.
USA Today says it best: The Royals Waited 29 Years for a Playoff Game. It Was Worth It.
Now, the Royals head to Anaheim to play a 'best of five' series to see who will advance further for the American League.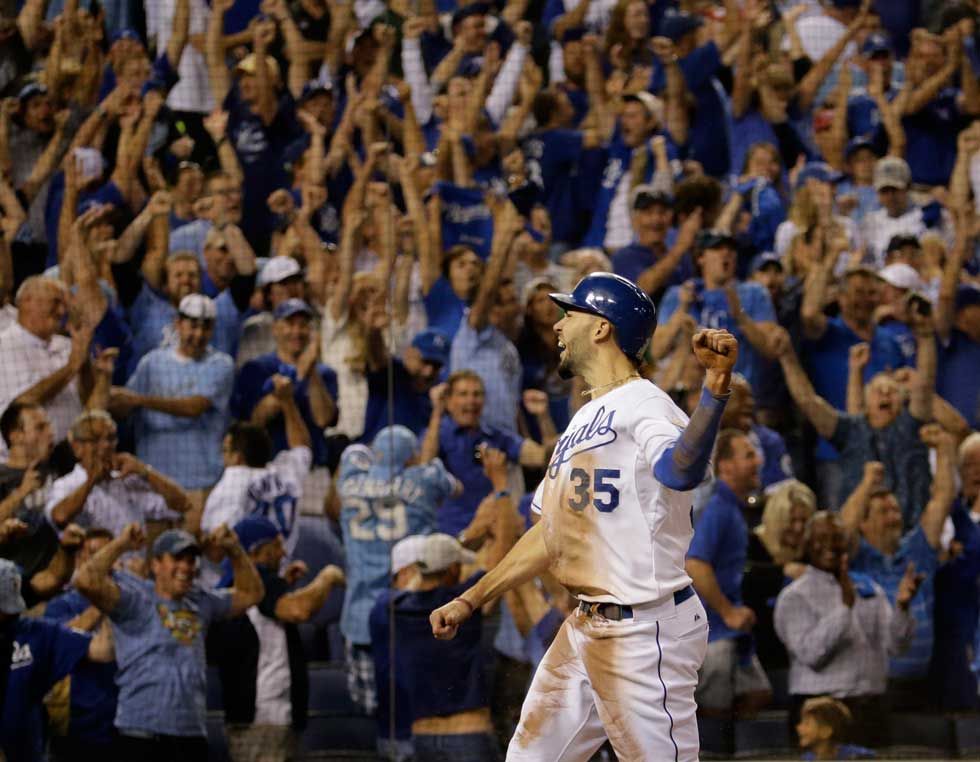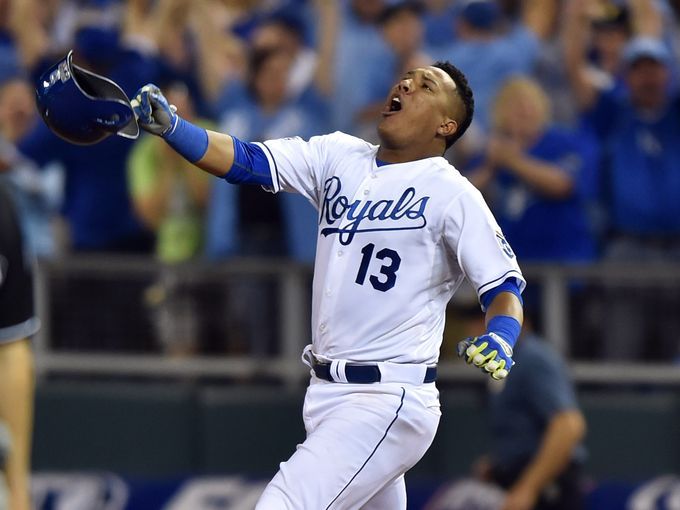 What is YOUR favorite baseball team?
How did they do or are they doing this year?
Or do you not like baseball at all?