Once upon a time, I wanted to make a recipe book. It was my senior year of college, and I tried. I really did. I used a plain white binder, Microsoft Word, and my cheap printer, which printed black as gray and really light colors.
That was in 2010.
Now, I REALLY want to make a nice one. I have so much on my plate right now with the end of the school year wrapping up, though. I am making the yearbook for my 8th graders and a big slide show (plus 30 copies on DVD) to be played at their ceremony. OH - and my wedding is a week after school gets out, so I'm crazy busy doing last minute planning for that too. I probably shouldn't even be spending time blogging. Oops.
That said, I have BIG PLANS for making this recipe book once we move to Ohio after our honeymoon and get unpacked. It may be mid-August before I actually get to begin, but I'm excited. I am planning what I want it to look like right now since I can't find any I LOVE on Etsy. I want a fabric covered binder with lots of categories inside with BIG tabs that make it easy to find what I want. I want to create a template for my recipes to be typed into so they are uniform. Maybe I'll even sell my creation in my Etsy shop if I like the finished product enough!
For now, though, I'll have to just daydream abut this recipe binder and continue organizing my recipes when I have a spare minute here and there.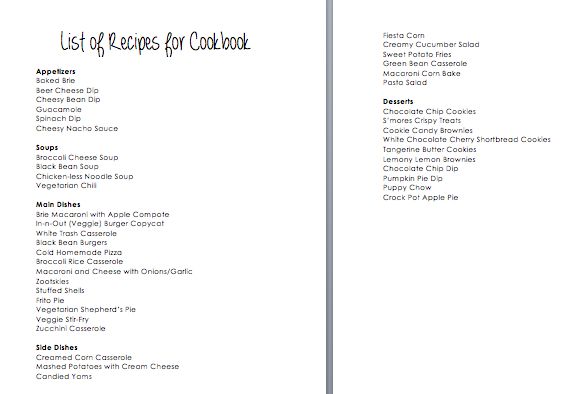 Have you ever made a recipe book?
How did you do it?
Or do you just keep your recipes stored on the computer?