Last week, my handsome fiancé turned 25. I decided several months ago that I wanted to throw him a surprise party since we have no idea how long we will have been somewhere when his birthday falls (thanks, Air Force) or how many people we will know there.
Many of you already know this, but Dan loves beer. I mean
LOVES
it. He even brews his own... so I decided to have a beer themed party for him, complete with several different beers, beer cheese dip, hot pretzels with cheese sauce and spicy mustard, cooked sausages, and BEER CUPCAKES.
Yep, I found an incredible recipe from
keyingredient.com
and KNEW I had to try them. The recipe is for Corona OR Blue Moon, but since the cupcakes were for Dan's birthday, I made both flavors... and they were a huge hit!
You can find the recipe below these pictures!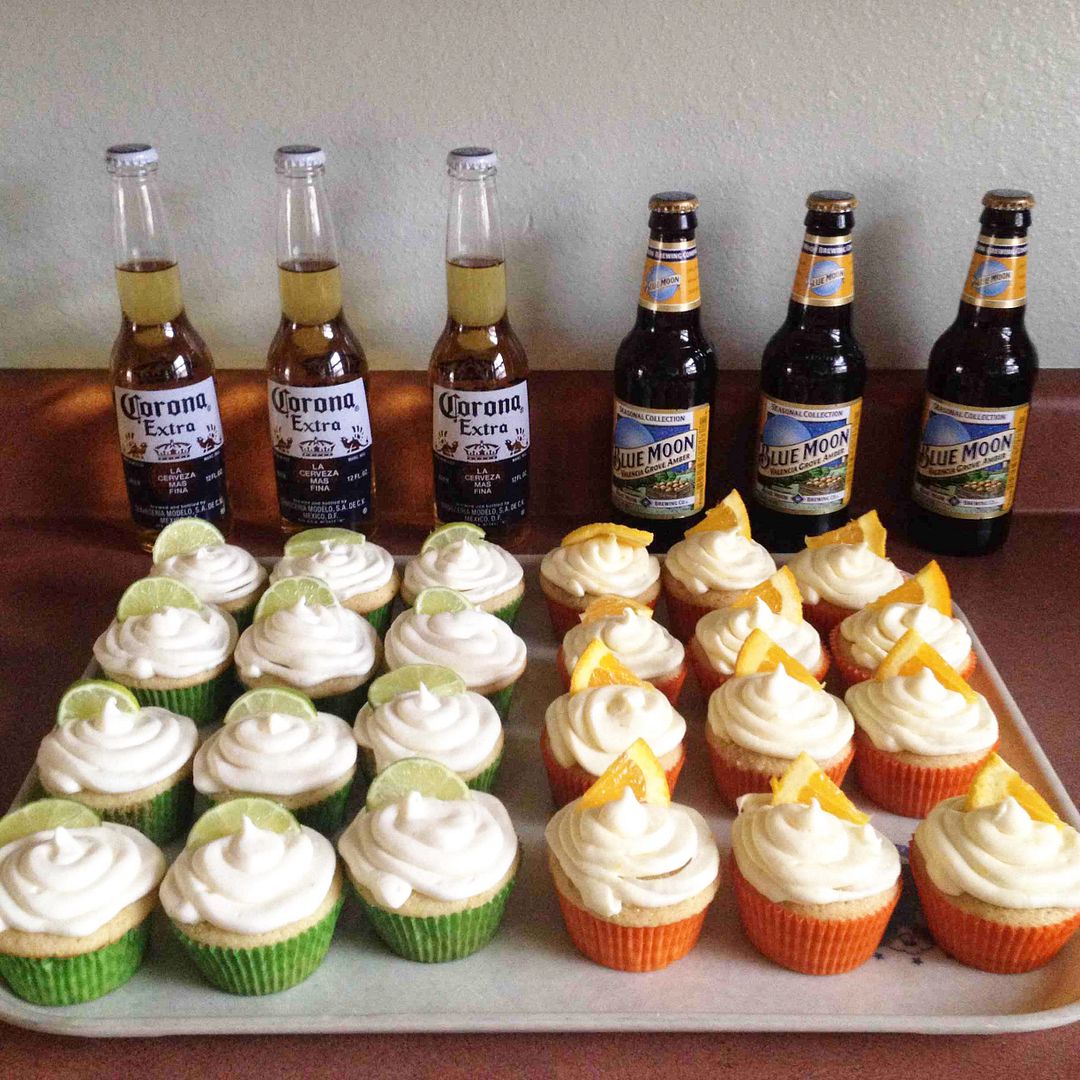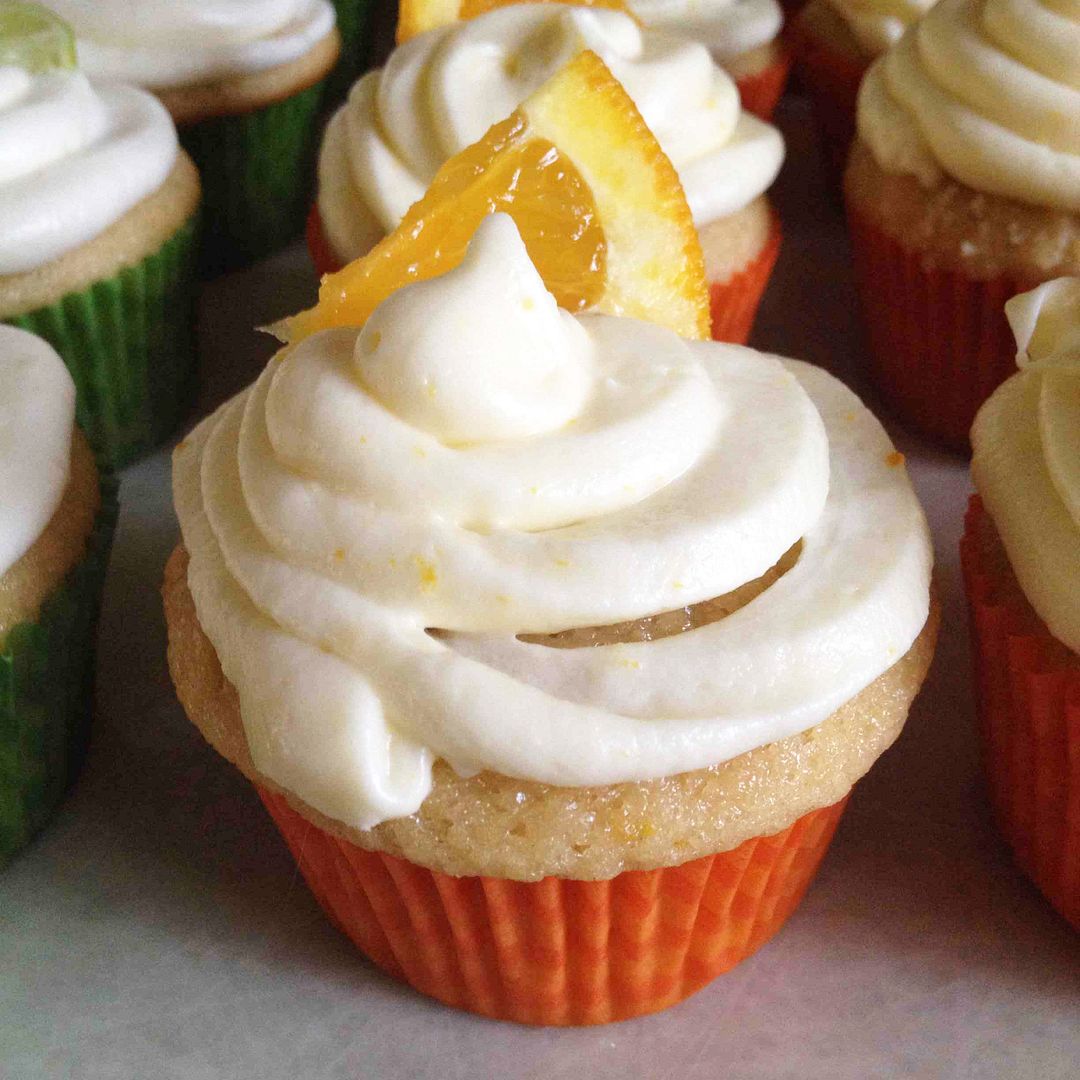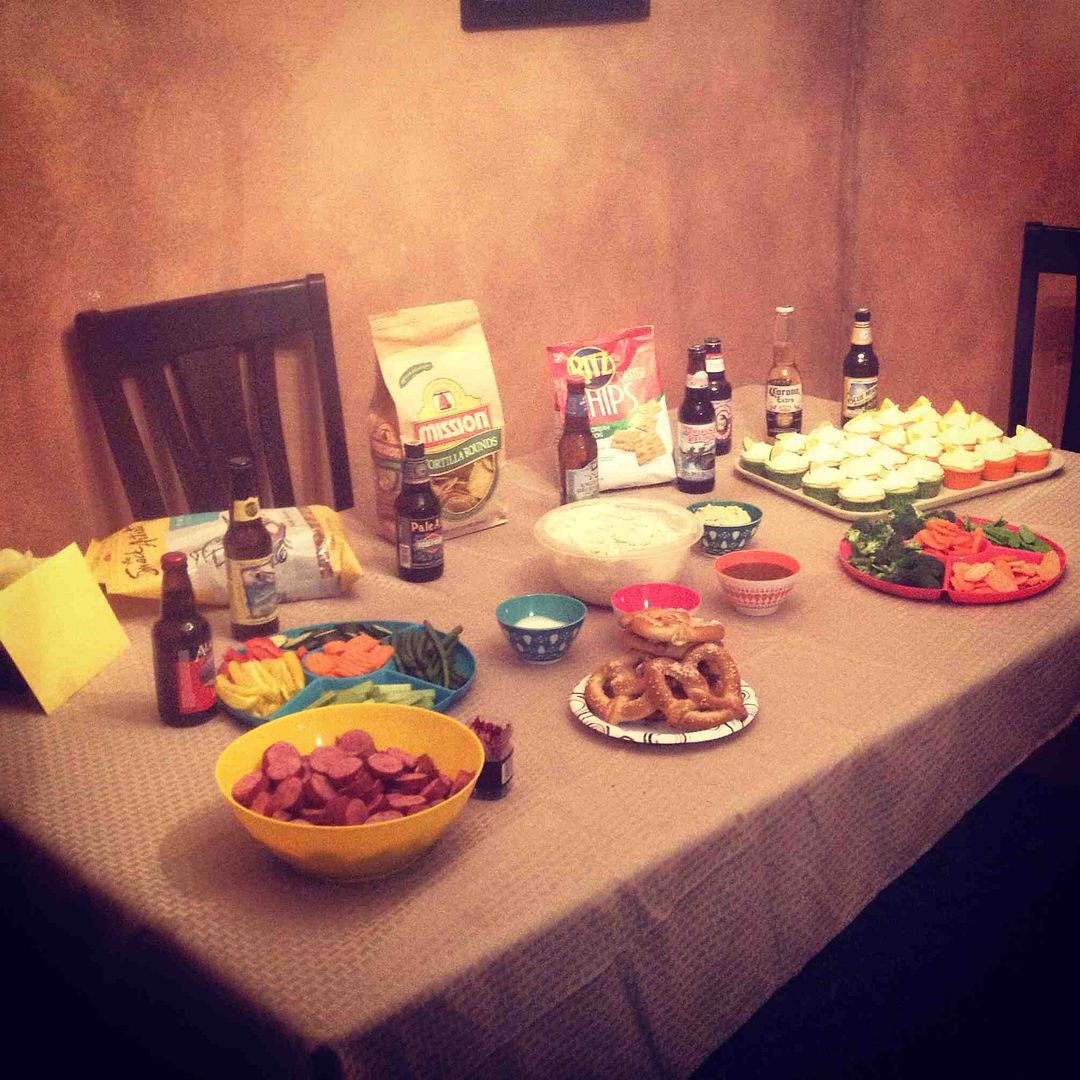 The table when Dan arrived for his surprise 25th birthday party!
BEER CUPCAKES RECIPE

(Choose Corona or Blue Moon... or make them both!)
INGREDIENTS
3/4 cup butter (at room temperature)
1 3/4 cups sugar
2 1/2 cups flour
2 tsp baking powder
1/2 tsp salt
3 eggs (at room temperature)
1 tsp vanilla extract
1/2 tsp orange or lime zest (orange for Blue Moon / lime for Corona)
1 cup Blue Moon or Corona beer (plus a little more for the top)
1/4 cup milk
orange or lime slices for garnish (orange for Blue Moon / lime for Corona)
DIRECTIONS
1. Preheat oven to 375 degrees.
2. Line cupcake tins with liners (if you're making both flavors, I highly recommend using coordinating colors so you know which is which before you frost them).
3. In a medium bowl, whisk together flour, baking powder, and salt. Set aside.
4. In a large bowl, use an electric mixer to beat together butter and sugar until light and fluffy, about 2-3 minutes.
5. Add eggs, beating after each addition.
6. Add vanilla and zest.
7. Combine milk and beer.
8. Alternately add the beer mixture and the flour mixture to the sugar/butter mixture, starting and ending with the flour. Mix on low while adding.
9. Fill the cupcake liners 2/3 full.
10. Bake for 18-20 minutes or until a toothpick comes out clean.
11. When cupcakes are done, use a toothpick to poke several holes on the top of each one.
12. Brush beer (Blue Moon or Corona) over the tops of the cupcakes while they are still warm.
FROSTING RECIPE
INGREDIENTS
12 oz cream cheese (cold)
6 tbsp butter (at room temperature)
1 tbsp freshly squeezed orange or lime juice (orange for Blue Moon / lime for Corona)
1 tsp orange or lime zest (orange for Blue Moon / lime for Corona)
4 cups powdered sugar
DIRECTIONS
1. Cream together cream cheese and butter with an electric mixer until creamy (about 2-3 minutes).
2. Add the citrus juice and zest.
3. Add the powdered sugar until well combined.
4. Beat until smooth (about 2 minutes).
5. Load frosting into piping bag (or a large Ziploc bag).
6. Squeeze onto (cooled) cupcakes.
*Recipe SHOULD yield 24 cupcakes. I always make 20 instead and fill the liners more so the cupcakes are bigger. Quality over quantity and all that...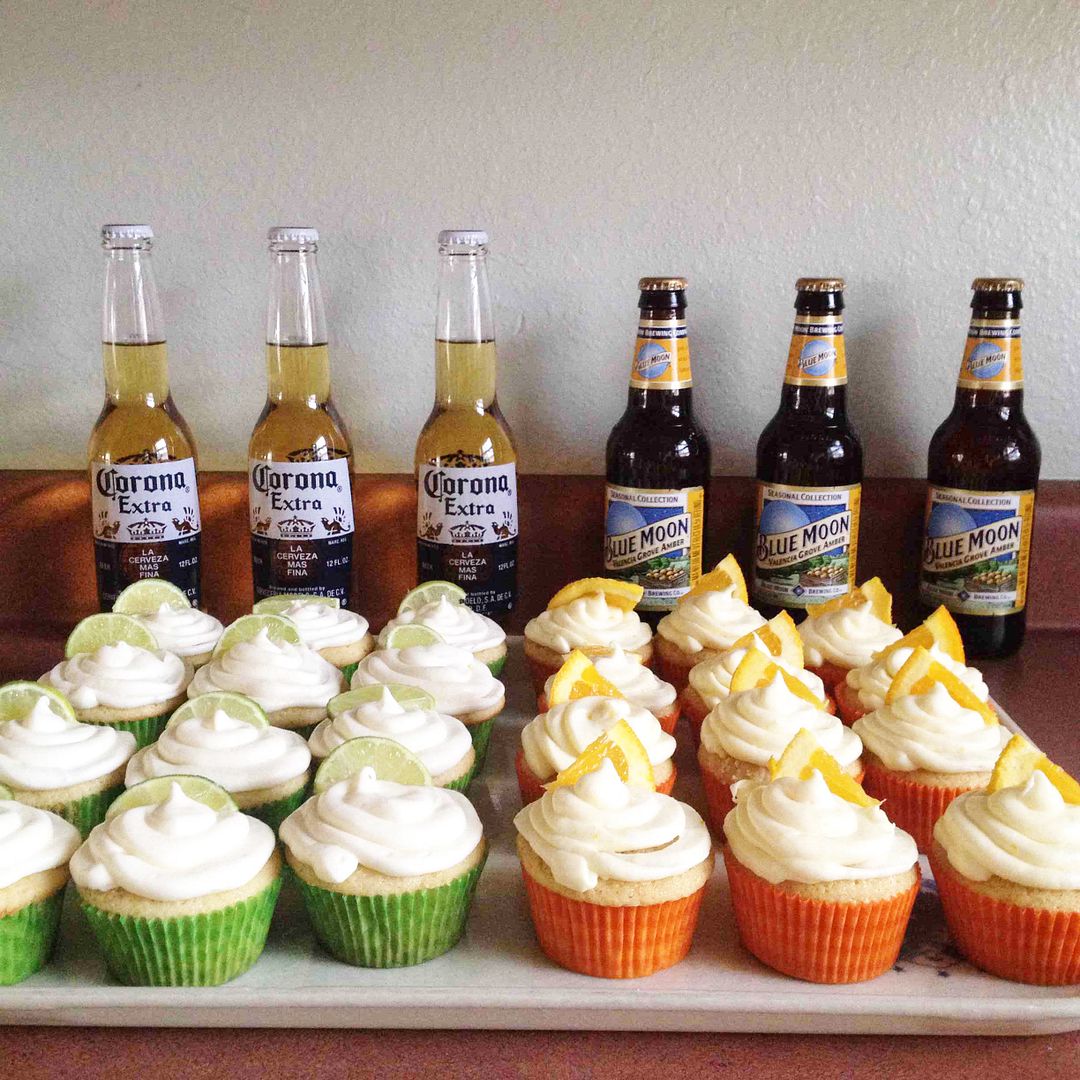 Have you ever made beer cupcakes?
What is your favorite cupcake flavor?
Have you ever thrown a surprise party?