Somehow, I blinked, and my first baby turned 2.5 years old. This happened back at the beginning of March, and she's now closer to three than she is to two. And she sure has the attitude to show it!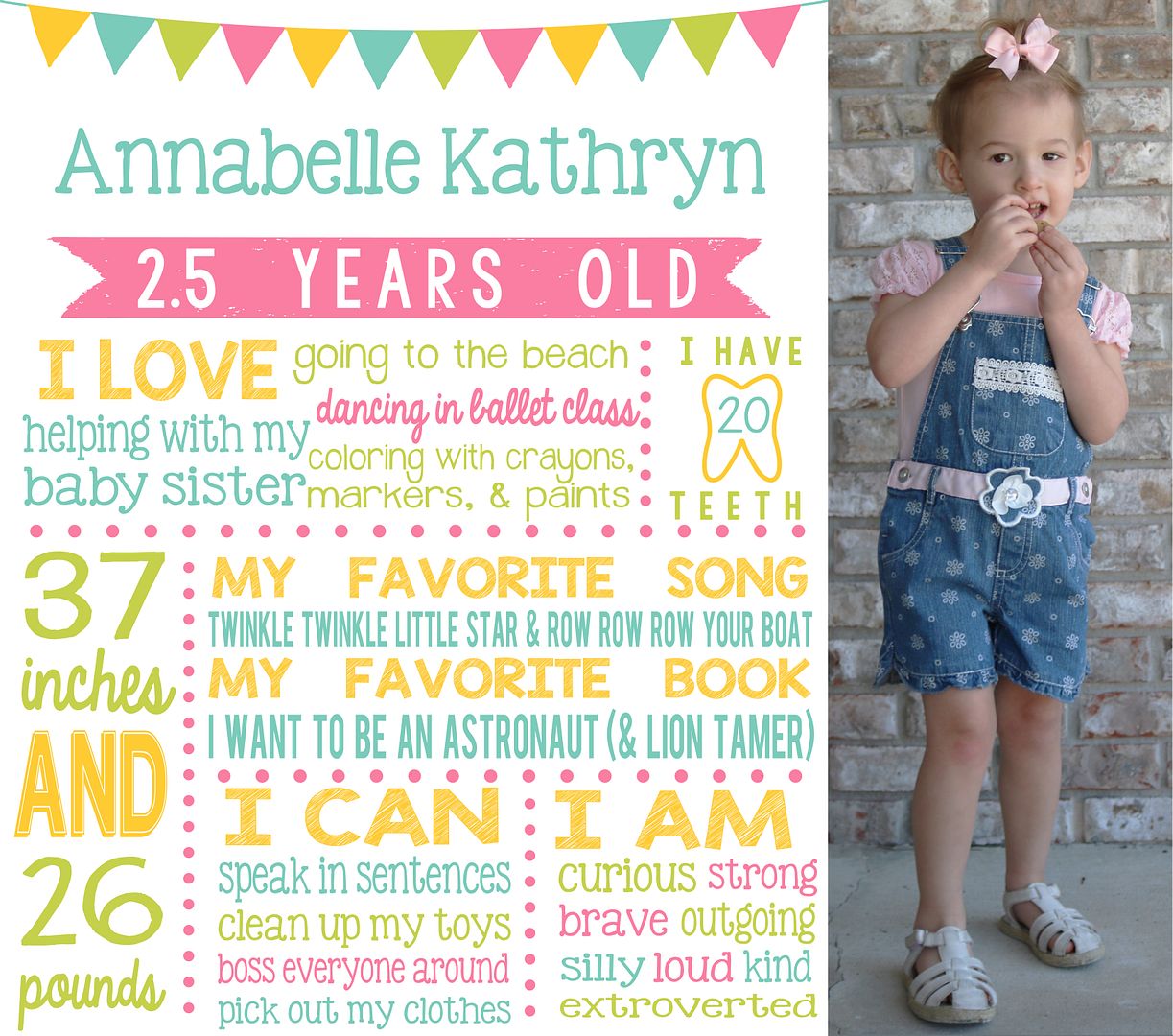 Our little Annie finally has all of her teeth, but she is somehow STILL in pain. She has really struggled with those dang teeth, but we're hoping we're almost done dealing with them.
She's still super tall and super skinny! Lucky girl! But it's still tough finding clothes that fit her correctly. Thankfully, she's been really into dresses lately, so that's been a little easier. I just make her wear biker shorts underneath because she seems to always be upside down. I give her two choices every morning: first, she chooses if she wants a dress or shorts/pants and a shirt for the day. Then, once she chooses, I pull two of whatever she picks out, and she then chooses her outfit. She's can get undressed by herself completely, but she is just starting to be able to put her clothes on correctly. It takes her a while, but she's getting it.
Annabelle loves dancing, and she goes to ballet class once a week. She has a recital coming up in June that we are really excited about! She seems to be very musical as well - she sings all day every day and always asks for music to be playing if it's quiet in our house (or outside).
She is strong and quick and sassy. She throws tantrums like none other, but she also gives the very best hugs, kisses, and Ugga Muggas. She is still learning to follow directions quickly, but as long as we're not in a huge rush, she does okay. She likes baths again and asks for them daily. She is obsessed with Paw Patrol, Trolls, and Daniel Tiger. She colors with crayons or markers every single day.
Annabelle is the BEST big sister. She walks out of her room every morning saying, "Good morning, Josie!" and is almost always eager to give her kisses and throw away diapers for me.
We can't believe how much Annabelle has grown as a person lately. She's a little human with emotions (lots of them) and opinions (also lots of those), and we're hopeful that we can help guide her into the best person she can be.