It's been a long time since I've shared our day-to-day life here on the blog, and I kind of miss that aspect... so here's a month-long catch up post!
It's been a pretty hectic month getting to Texas, unpacking, and diving right in to having people over. (Seriously, guys - that's the only thing that gets us unpacked at a new base. We invite people over for a cookout the second weekend we're there, and it forced us to have the boxes GONE! Works like a charm! I will add that we've been lucky to know more than a small handful of people at both bases we've moved to before we got there, so we did have people to invite over. Try it!)
Annabelle has really been enjoying trying new foods. They're still hit or miss with her, and she is still drinking a ton of breastmilk, but she LOVES puréed squash, refried beans, and chomping on raw veggies, like cucumber, carrots, and fresh green beans.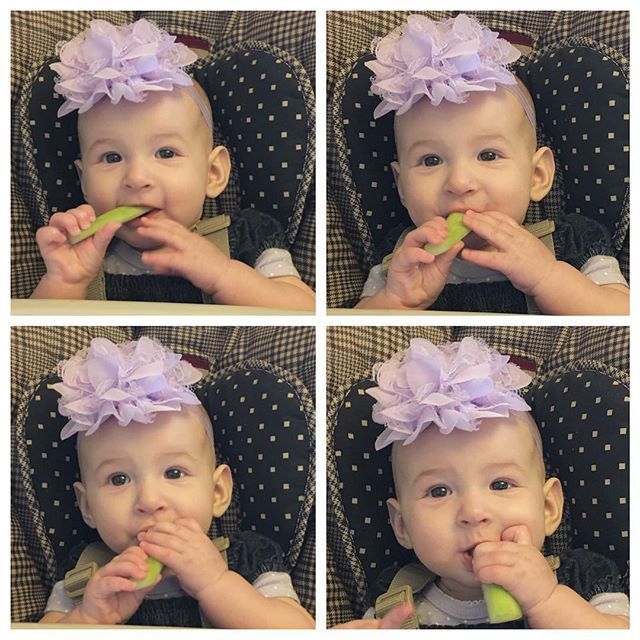 There is a park a quarter mile from our house, and I just know it's going to be so much fun while we live here. Annabelle got to swing outside for the first time, and she enjoyed it after getting used to it. I can't wait until she can go down the slides too!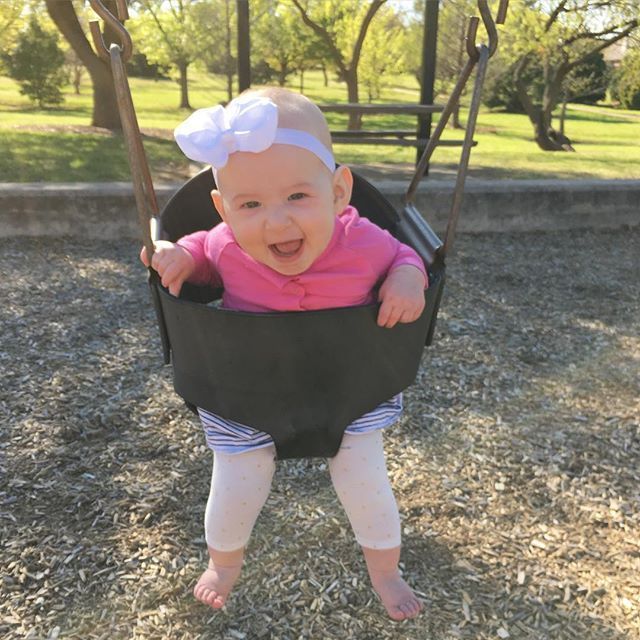 A comparison photo - 2 months on the left, 7 months on the right... exact same outfit (it's a 0-3 month onesie, but it is HUGE! She hasn't fit into that size in anything else for a long time). She wore it as the Royals won the World Series last fall, and she wore it again for Opening Day 2016!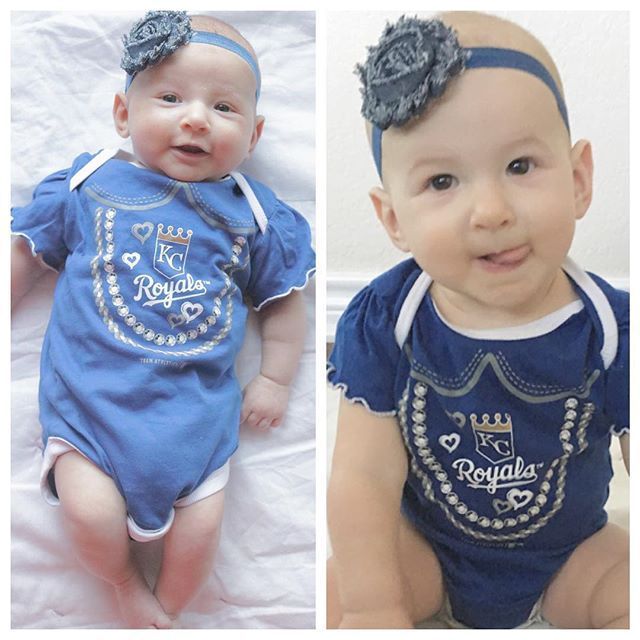 Long story short: Dan bought me this mug way back in 2009 when we hadn't been dating long. He was at tech school at Sheppard AFB, and I was back in Missouri going to school. It was our first taste at long distance, and I loved the mug! Well, that mug made the move from Missouri to Colorado, then the move from Colorado to Ohio, and now from Ohio to Texas... back to the very same base it was purchased at seven years ago. Crazy!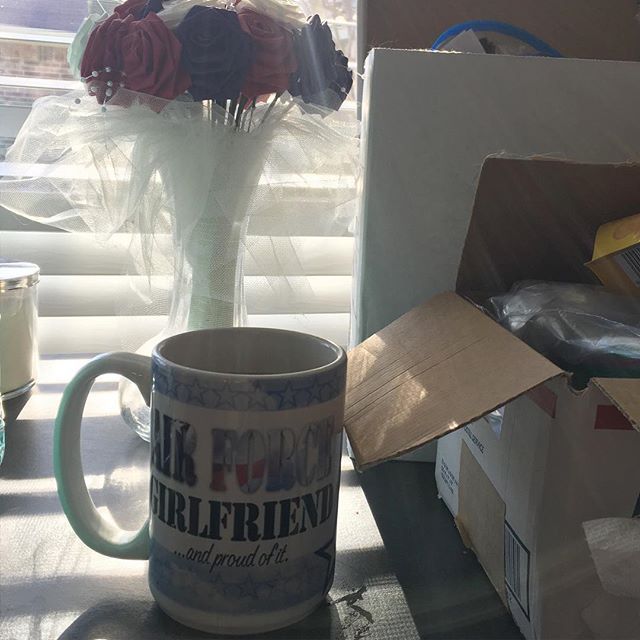 Dan celebrated his 27th birthday earlier in April. We didn't do much, as he had a stomach bug the day before that really wore him down, but we hung out and luckily were able to go to dinner at a local steakhouse since he was feeling better. I made this collage of him being a dad for his birthday social media post. ;-)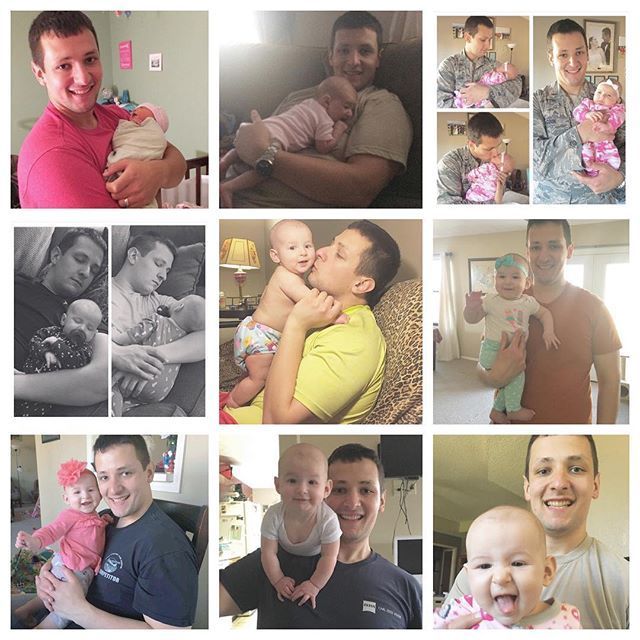 Little Miss needs to SLOW DOWN. All last week, she started crawling (pretty fast, too!), pulling herself up to standing, said her first word (dad, of course - three times in a row while looking straight at Dan), and cut her first tooth through - finally! She is officially MOBILE, and she's loving it!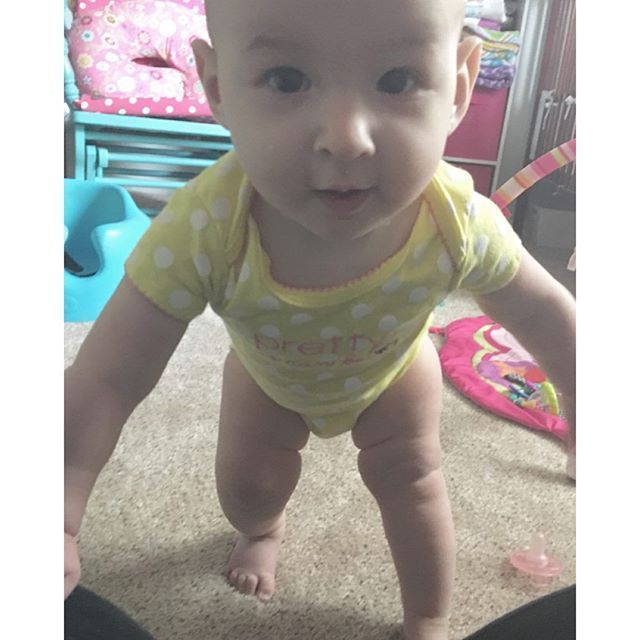 I eventually caught the stomach bug Dan had earlier in the week and was pretty much out of commission. Annabelle was such a patient trooper with us this week - a happy one at that!
Girlfriend has so much teething pain. I feel so bad for her poor little gums... she's working hard, but so far, just one teeny tooth is there.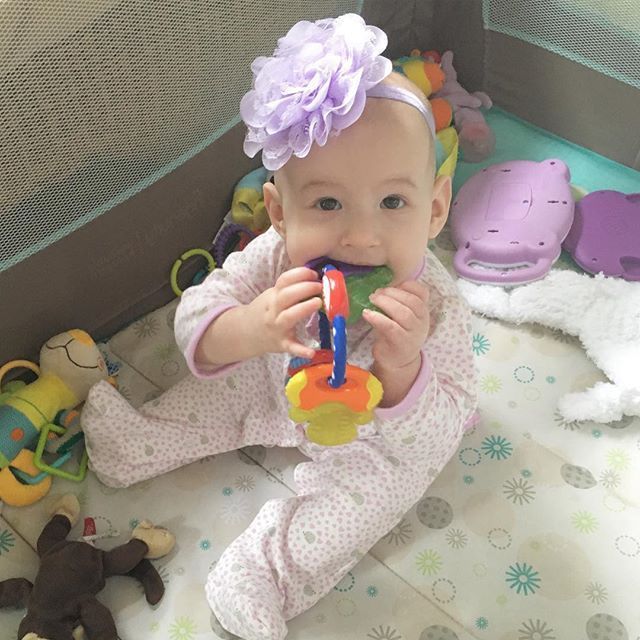 And last but not least, our fur-babies for National Pet Day last week. Ironically, only the picture of Gilligan in the sink was taken in Texas. Stormy and Smudge's photos are both from Ohio. Oops. I need to capture some new shots of them soon!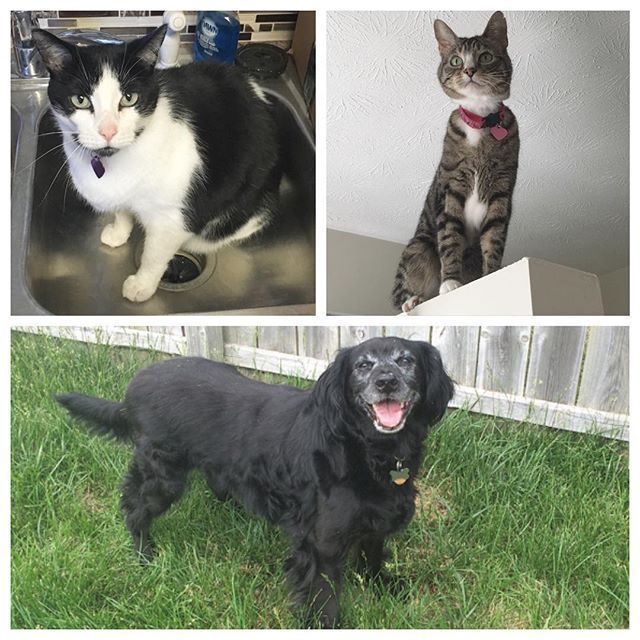 Well, I guess that pretty much sums up our life lately! We are finally falling into a new normal here and making a routine for ourselves. I can't wait to share more of our Texas adventures!