I recently started following a lot of blogs. Before, I was only following friends. I decided to look into military spouse blogs, though, and I'm glad I did. I have found some really encouraging wives from every branch of the US military, and their blogs are so fun to read. They also provide prompts on a weekly basis. There are tons of them, but this week, I am choosing to participate in the "Friday Fill-In" because it just looked fun. I may continue it each Friday, or I may not. We'll see. But I got the idea and questions from
Wife of a Sailor
's blog.
Questions:
1. What is one thing in the past month you would have changed?
I would change how angry/upset I got during one of my days spent skiing with Dan over spring break. My negative attitude one day prevented me from having fun, and it probably didn't allow Dan to enjoy the time much either. I tried really hard to pick it back up the next day and was pretty successful, thankfully.
2. What was your favorite thing that happened in March?
I really enjoyed seeing my students complete their state standardized testing because they were so excited to show what they have learned over the course of the school-year, so naturally that was awesome. I also REALLY enjoyed spring break because I got to spend so much time with Dan! We are rarely actually with each other, so it was great.
3. What are you looking forward to in April?
This month, I am looking forward to celebrating Dan's birthday (on the 10th), running the Glow Run 5K with Dan (on the 27th), and taking engagement pictures with our wedding photographer (sometime at the end of the month).
4. What is your favorite thing about spring?
Spring is definitely
NOT
my favorite season. I would actually classify it as my least favorite season just because the other three have qualities that I prefer. That being said, I am SO EXCITED that spring has finally sprung in Colorado because we had a long, cold, dry winter. In fact, just this afternoon I went running outside for the first time all year! I've been cooped up in a gym until now, and while I've been getting some great workouts in, there's just nothing like the freedom of running around a gorgeous lake with the beautiful Pikes Peak nearby.
I snapped these two photos from my iPhone after my run this afternoon: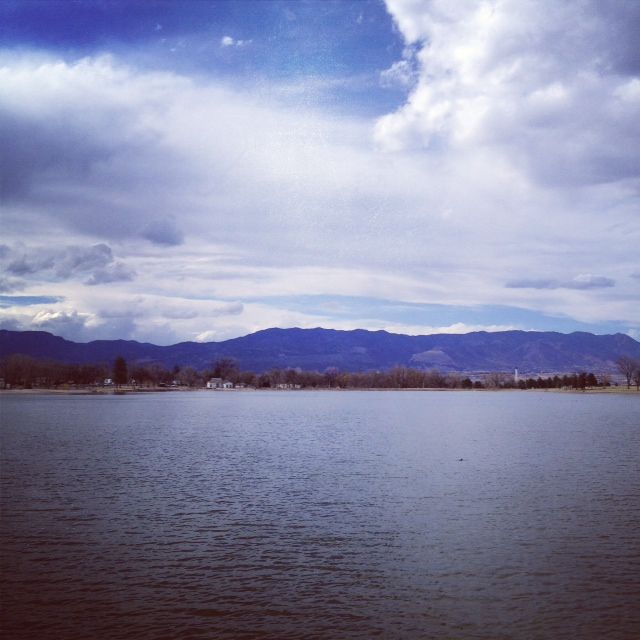 5. What is your ultimate guilty pleasure?
Oh, this one is embarrassing. I am going to admit to the TV shows I watch. I'm not a big television watcher, but there are a handful of shows I watch (online after they air) when I have the time or need to do something brainless. Now, you're just DYING to hear what those shows are, right? Okay. Here goes nothing.
Teen Mom. Dance Moms. Army Wives. 19 Kids and Counting.
Eek -- sharing those did
NOT
feel liberating... just humiliating. But hey, at least I have nothing to hide anymore.
How would YOU answer those questions?